24-Hour Protest People
What happened at the march where a trans protestor was kidnapped?
Welcome to Rave New World—a newsletter on drugs, nightlife, and politics. This newsletter is written by me, Michelle Lhooq, a journalist and diehard raver interested in the intersecting countercultures of this revolutionary moment. Rave New World is also a radical experiment in immersive citizen journalism outside of mainstream media networks, and is therefore supported entirely by our readers. Please consider supporting by upgrading to a paid tier—and sharing with like-minded freaks and friends.
On Tuesday, Abolition Park protestors reunited for a "24-Hour March for Abolition" in response to the NYPD shutting down their no-cop autonomous zone outside New York's City Hall a week prior. Midway through the protest, an 18-year-old trans female protestor was kidnapped into an unmarked van by plainclothes officers—a harrowing incident that instantly blew up into headline news, sparking outrage as people drew comparisons to the tactics of federal agents in Portland.
I was following the march and streaming it on my Instagram and Twitter. Below is a play-by-play of both the ecstatic triumphs and surreal terrors of that very long day.
11am: THE PRESS CONFERENCE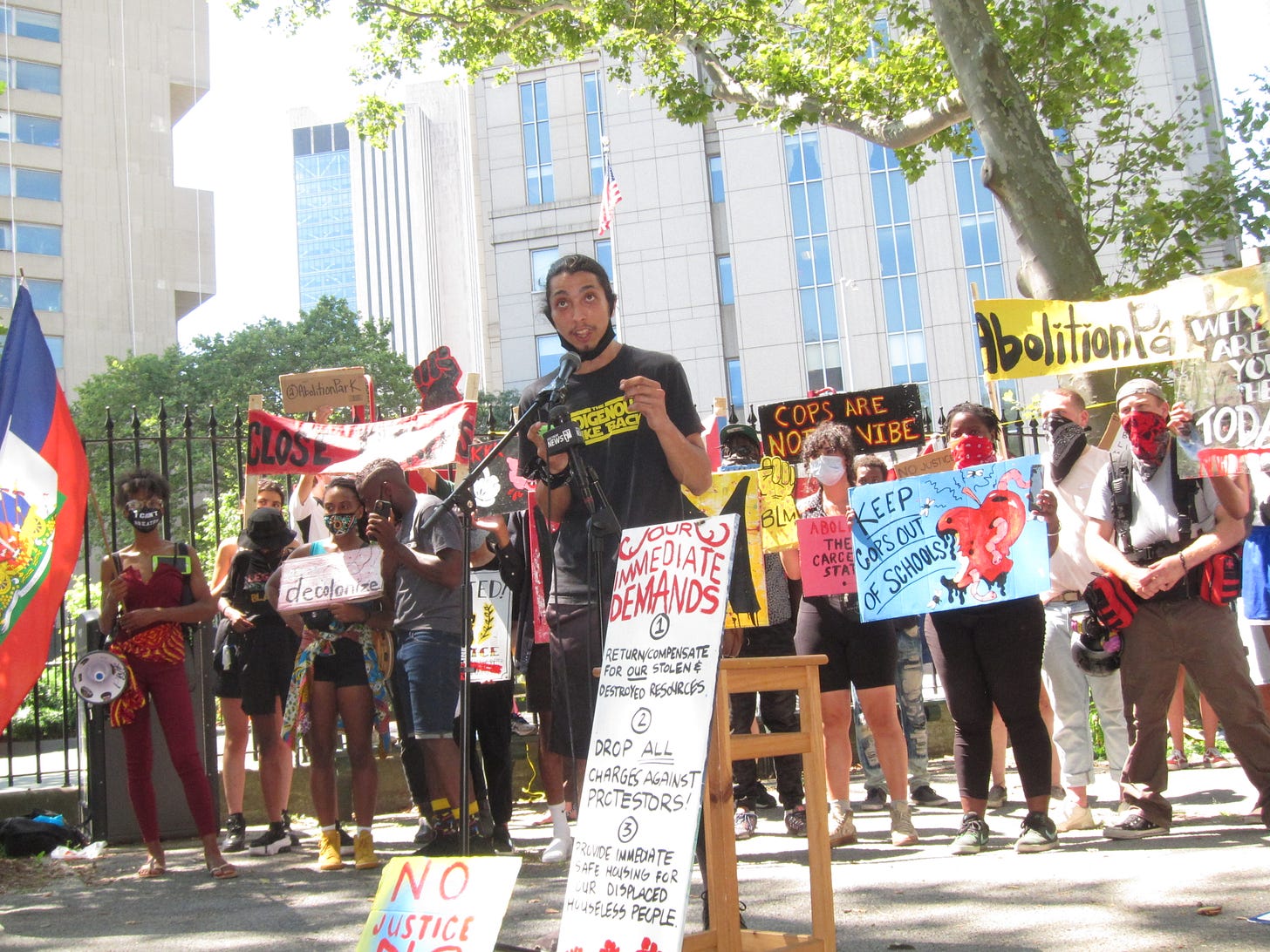 The march kicks off with a press conference at Columbus Park in downtown Manhattan. Protestors form a phalanx and hoist colorful signs, as prominent citizens of Abolition Park take their turn on the mic to speak on the need for social justice and police abolition. They list their three demands to the NYPD:
1) Return/compensate the resources that the NYPD destroyed during the early-morning raid (including items like tents, passports, and gear, which they claim was worth $20,000)
2) Drop all charges against protestors
3) Provide immediate housing for the displaced houseless people who were camping at the zone.
The last 24-hour event I attended was a techno rave, and despite being stone-cold sober this time, I'm determined to last till the end.
Then we march jubilantly through SoHo and the East Village, past the brunching bourgeois who gaze at us wide-eyed, mid-bite. "Protesting in 103 degree weather?! What the FUCK could you protest in this heat?" cranky New Yorkers exclaim incredulously, standing on their stoops with their hands on their hips.
1:30pm: THE TEACH-IN
We arrive at Tompkins Square Park and collapse under the trees to cool off. Someone passes out a pamphlet titled "Yes, We Mean Literally Abolish The Police" with historically-backed arguments for police abolition over reform.
An organizer named Victoria asks us to turn to our neighbors and discuss some questions. "Can you envision a society without prisons or police?" she says. "Are there popular narratives that limit your imagination? What do those narratives assume about people or society?"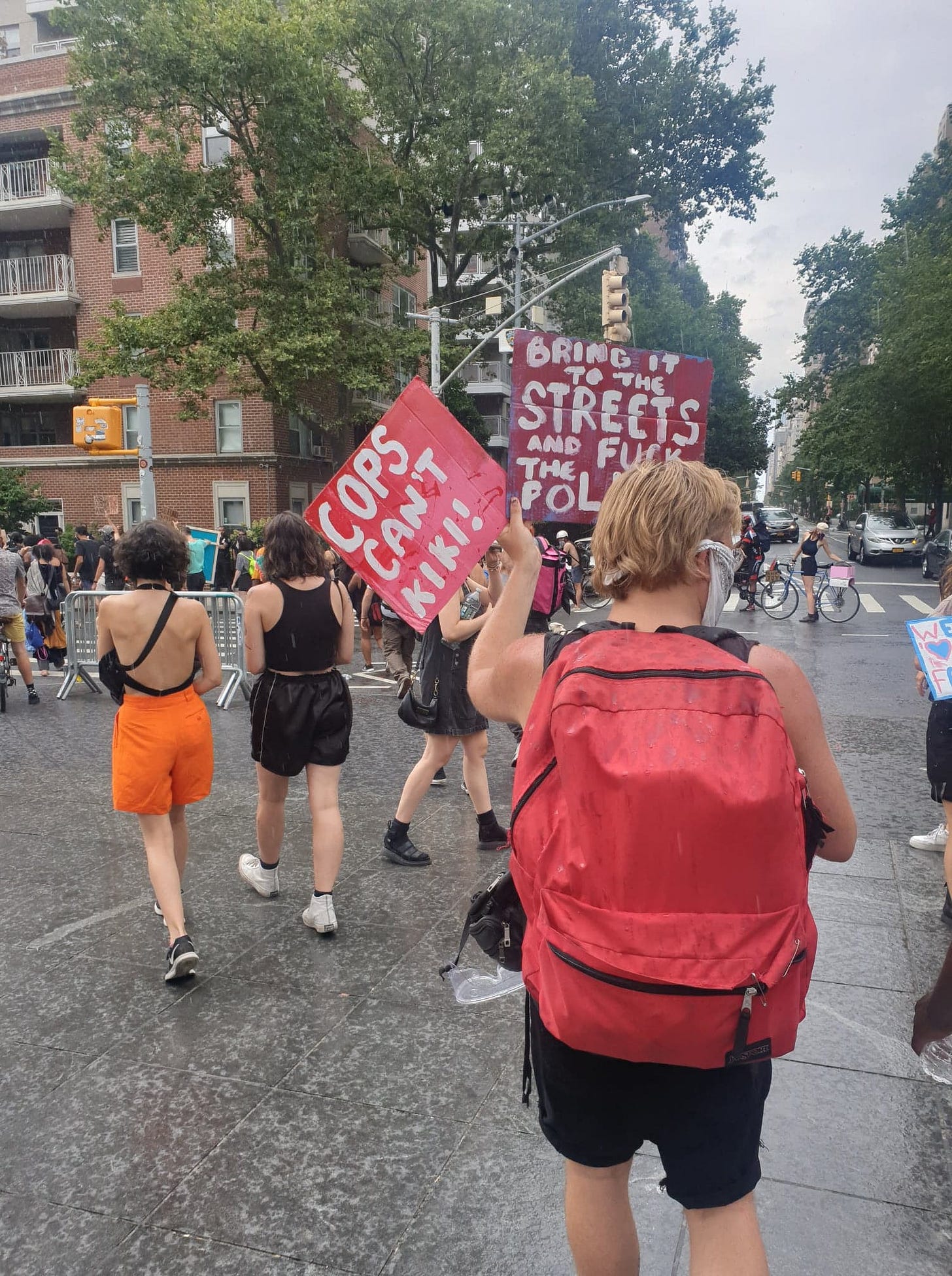 People are passing out free food, snacks, water. One protestor prances by holding a sign that says "BATHROOM FAIRY" and pointing out the nearest public bathrooms. He tells me he made DIY showers at Abolition Park out of hand pumps and tarps, and has made it his mission to figure out where the public bathrooms are on this route. I tell him it's cool that he's fighting for bathroom accessibility, given how fraught bathroom access can be for queer and trans people especially. "New York City is super inaccessible for poor and homeless people," he replies, "The subways closed their public bathrooms because of 'the homeless problem,' but fucking fix the problem, don't just close the bathrooms for them."
3pm: THE DANCE PARTY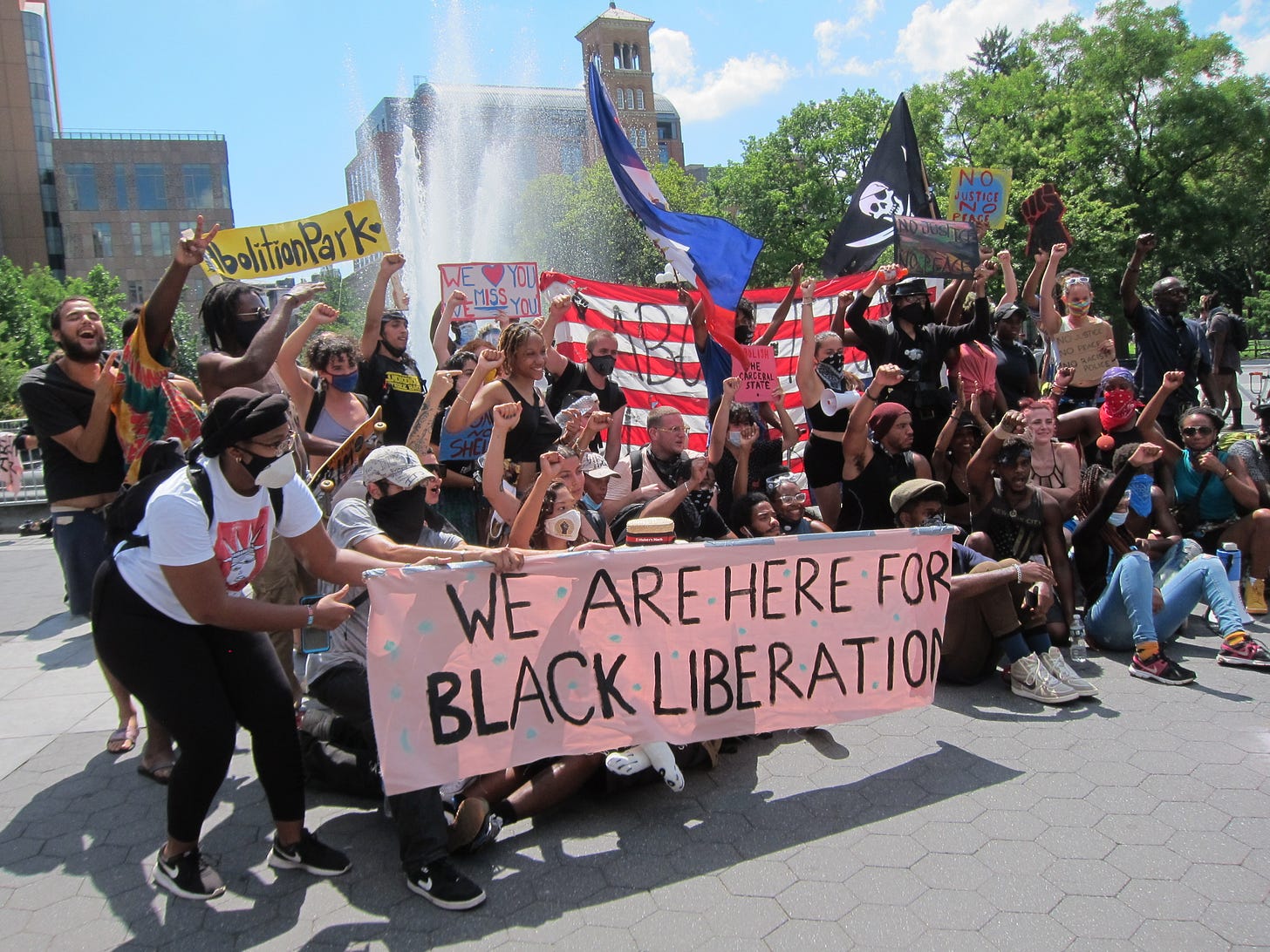 Who says there's no such thing as a free lunch? When we arrive at Washington Square Park in the West Village, there are volunteers handing out empanadas. People jump into the fountain to cool off, and a DJ with a portable amplifier starts blasting Whitney Houston's "I Wanna Dance With Somebody." Dancers form a spontaneous circle, arms stretched wide, hips shaking, wet hair flipping across shoulders. I can't remember the last time I've relished this ecstatic energy borne out of joyous movement, as the body becomes a free agent revolting from the paralysis of disease and doom. The feeling is one of pure catharsis.
An anarchist I'll call "X" introduces themselves to me: "Do your covid boundaries include hugs?" I start to tell them how leaders of this march asked me to help them organize a "protest rave" as one of the stops—but I had hesitated because I didn't know how to organize a political action while ensuring the safety of my community. Watching the protestors dancing, I wonder if I should have just done it. The vibe seems so peaceful, without a cop in sight. X smiles and says, "We're entering a new era. Everything we've done in our lives has prepared us for this."
4:20pm
:
THE STONER SKATERS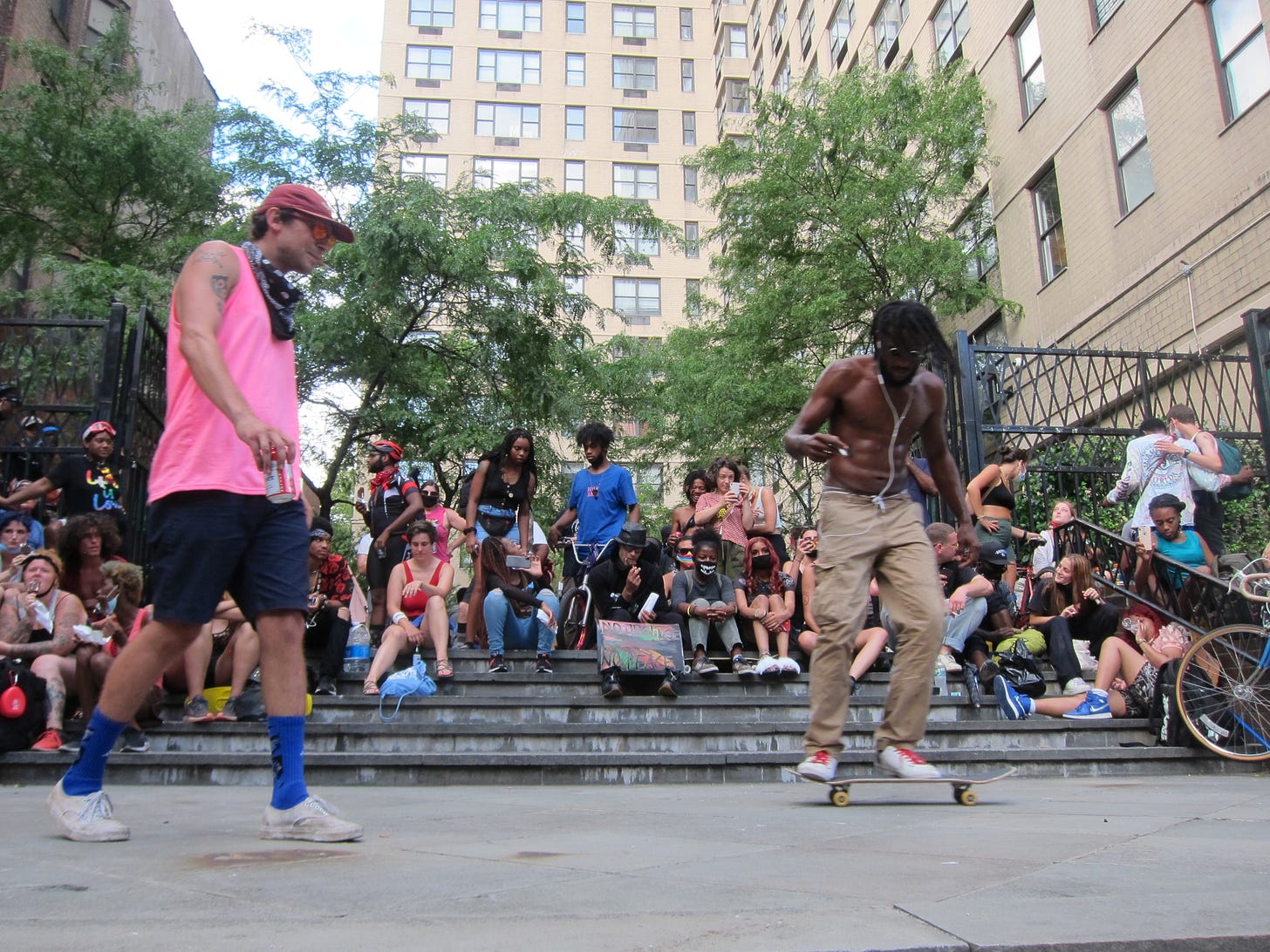 Now we march up to a small public plaza where we sprawl on the stairs for a "defensive skateboarding workshop" which turns out to be a bunch of skaters doing tricks while we eat ice cream. Can skating be a protest? I've been to yoga protests, meditation protests, and picnic protests in the last few weeks in New York, so apparently anything can be a protest, depending on the context. Sometimes just BEING can be an act of resistance.
When the skaters get tired, we huddle for another group pic. A man who has been clutching a giant stuffed tiger for the entire march hops on the megaphone. "SMOKING WEED MATTERS," he bellows.
6pm: THE KIDNAPPING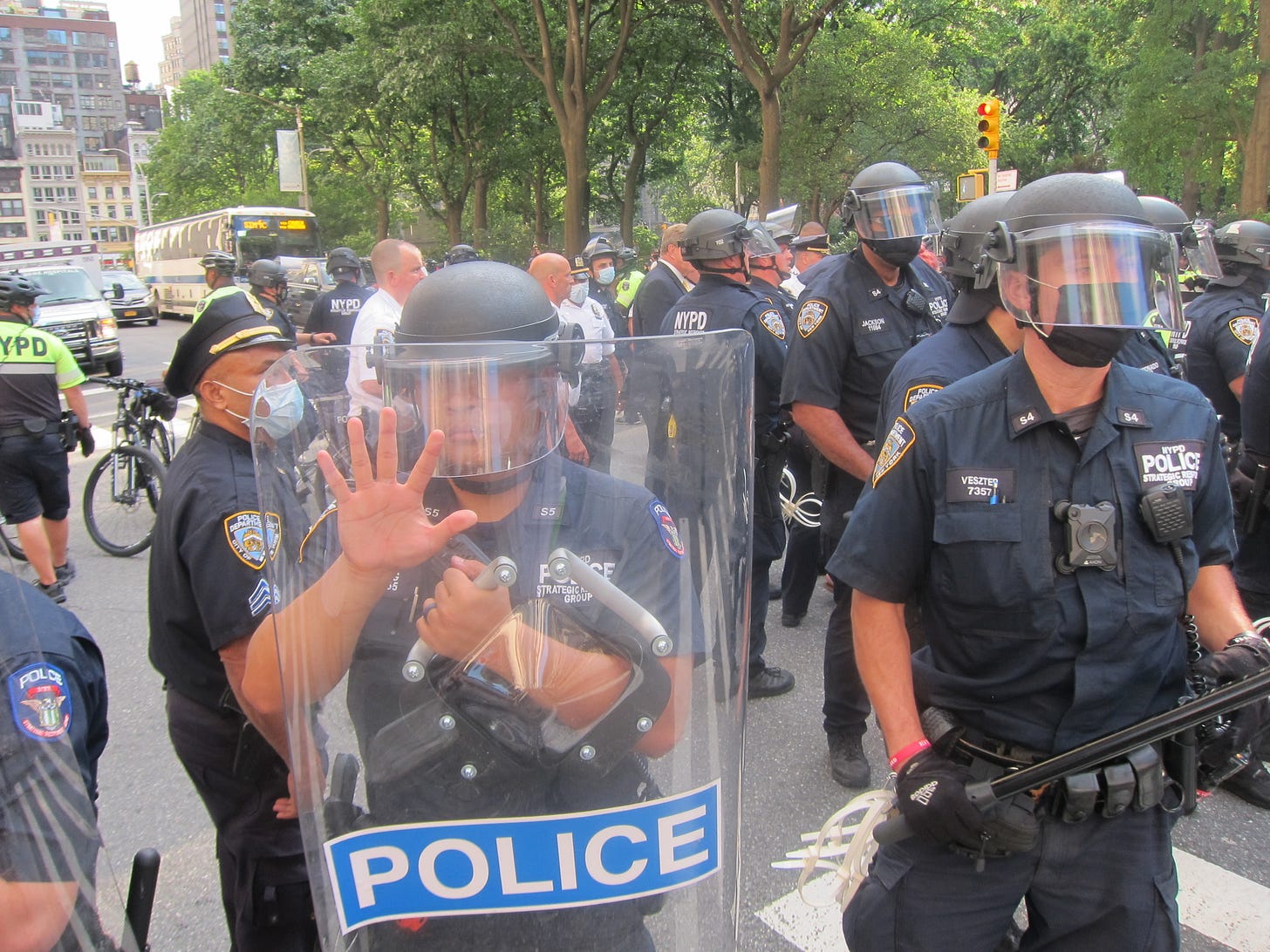 We are turning the corner on 26th street when suddenly people start to scream. The eight police on bicycles that have been trailing us all day have multiplied, and now there are police jumping out of squad cars clutching batons, police wielding bikes like barricades, police in every direction we turn. A Black woman falls to the ground, legs too weak to stand. "We're not sca-ared," someone on a megaphone sings in an anxious chant that no one echoes back. "Was there an incident that sparked this?" I ask officer after officer, heart pounding. One of them sneers, "Oh yeah," then barks at us to get on the sidewalk.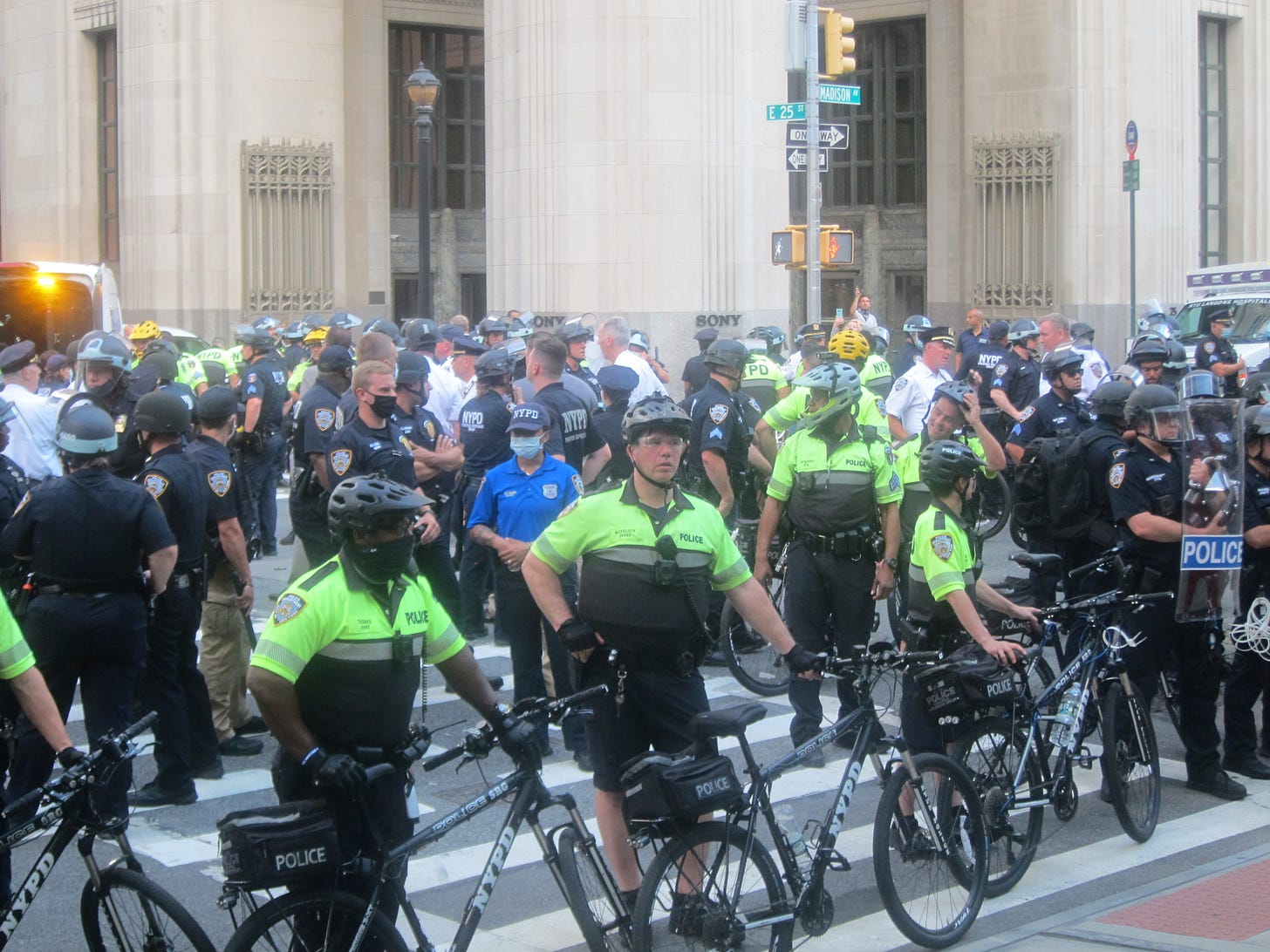 The swarm of cops keeps swelling so we fall back to Madison Square Park, but they follow us. "Listen," an officer says, pulling cops into a huddle like a football coach, "We wait for the light to turn red, and then we go." We yell at protestors to get off the street, but it's too late—the light turns, and it's a melee. Riot shields, whistles, flying limbs, screams and shoves. "They planted something in my pocket!" shouts a protestor, eyes bugging out of his head as he's pushed into a police car.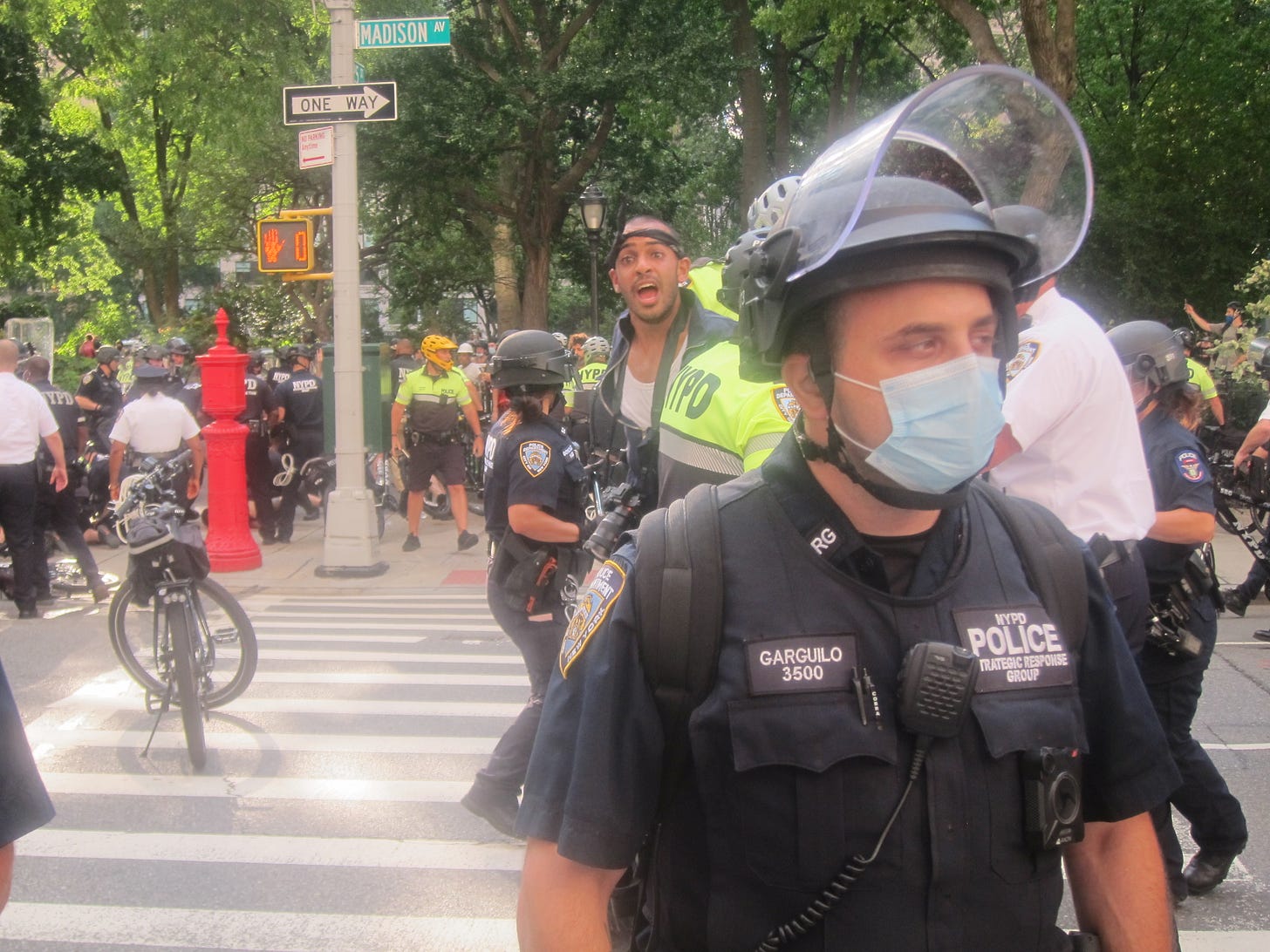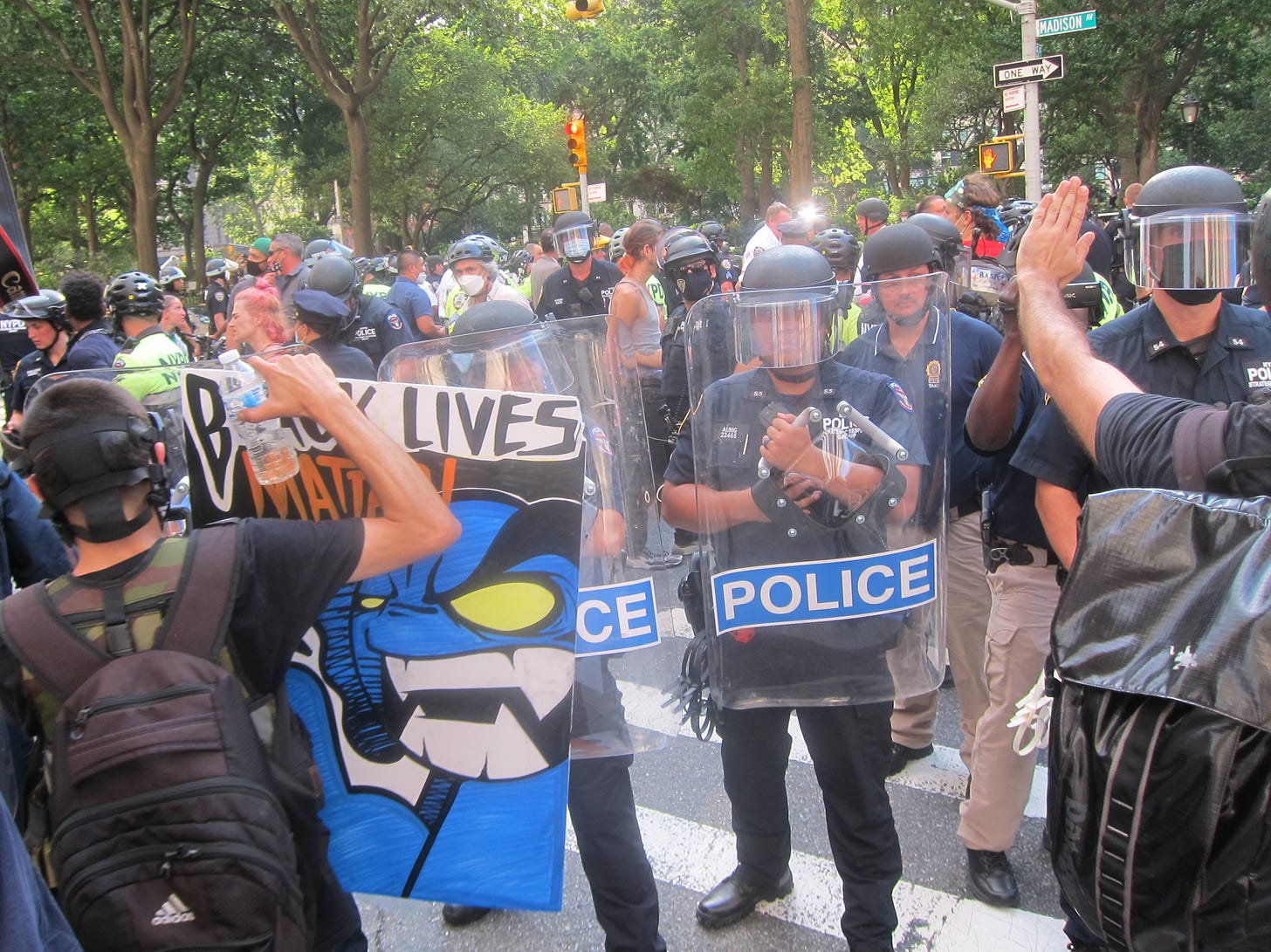 I spot X on a street corner and they show me a video on their phone. "They got Nikki," X says, crying and trembling. The video shows Nikki, an 18-year-old protestor better known as Stickers, getting kidnapped—snatched off her skateboard during the march by plainclothes officers, and thrown into an unmarked van in broad daylight. "Let's get out of here," I say, so X pops me on to the back of their bike shouting "hold on to my waist" and we glide up 6th Avenue to the ominous brr of overhead police choppers, arriving at Bryant Park. Sitting on the grass surrounded by oblivious picnickers, we debate the ethics of posting the video without the ability to blur protestors' faces, eventually deciding that the video's blurry quality—plus the fact that most people had masks—sufficiently obscured their identities. Concerned for Stickers' safety, what felt most important in that moment was to get the word out. So I tweet the video, noting that Stickers is a trans woman—an important fact to highlight given disproportionate police violence against trans people. It instantly goes viral. Now the whole world is watching.
8pm: THE MEDITATION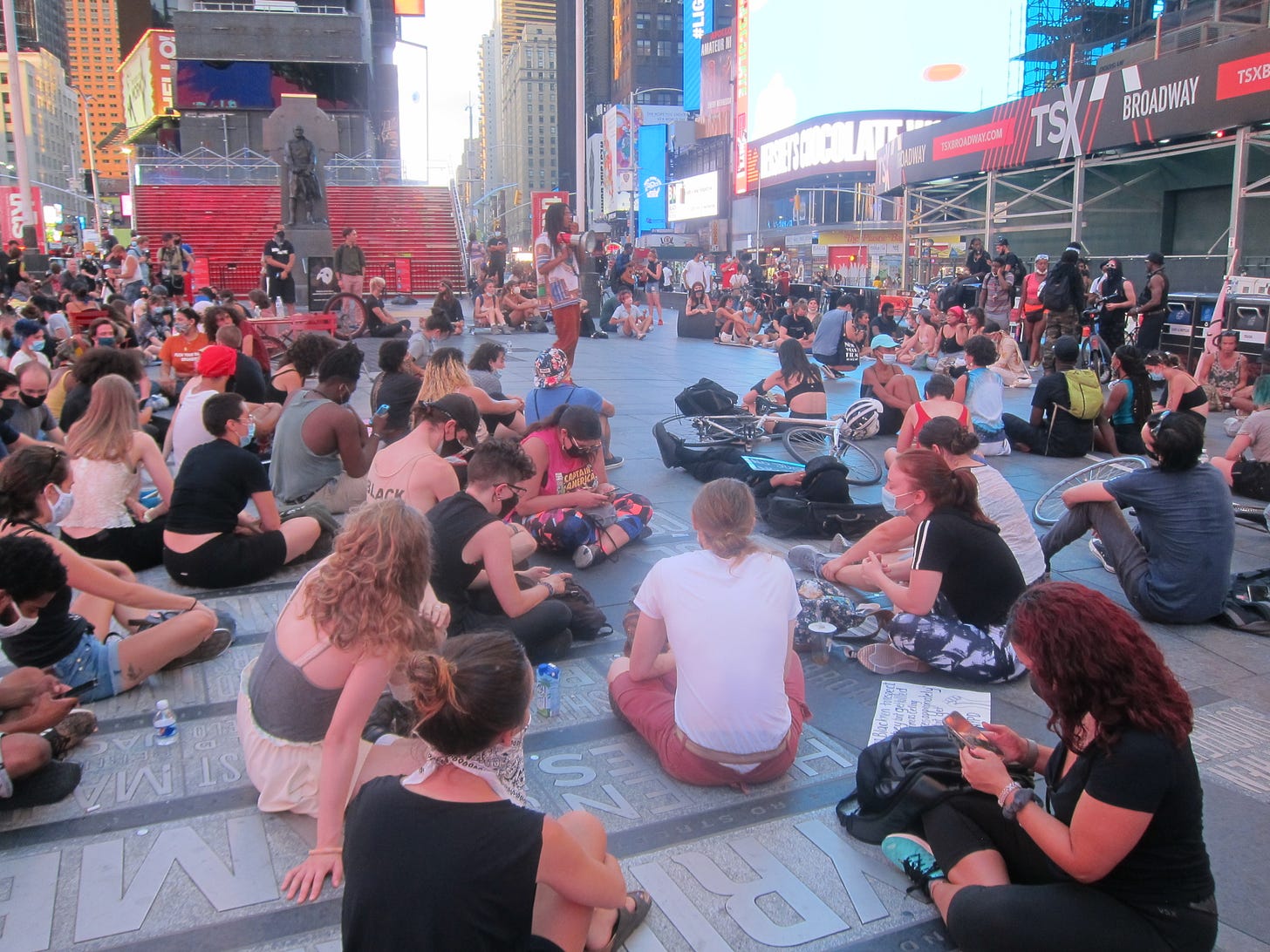 Everyone is stunned, hysterical, traumatized, but eventually we get word that the meeting point is the steps in the middle of Times Square, where the protestors are holding a group meditation. "Breathe in, breathe out," says a man on a megaphone. With all the businesses still closed, Times Square is a neon graveyard, and protestors seeking glassy-eyed zen to the ambiance of honking cars and flashing lights feels more like a paranoid trip.
Meanwhile, the NYPD tweets a statement that Stickers was arrested for damaging police cameras used to surveil protestors at Abolition Park, and some of her friends decide to protest outside the police precinct until she's released. More protestors are showing up, including people in full-body DIY armor and helmets. A friend offers me a shield fashioned out of cardboard. "Here baby, take this in case the pigs start pepper spraying," they coo.
10pm: THE FILM SCREENING

Now we continue the march up to Central Park, and as the sun sets, the vibe turns impassioned and angry. "WE WANT JUSTICE FOR THE PEOPLE," the protestors scream, but the Upper East Side is totally deserted and spooky—the rich have long fled Manhattan. The only signs of life that we pass are two moms in jogging shorts and a Spider Man holding a "BLM" sign.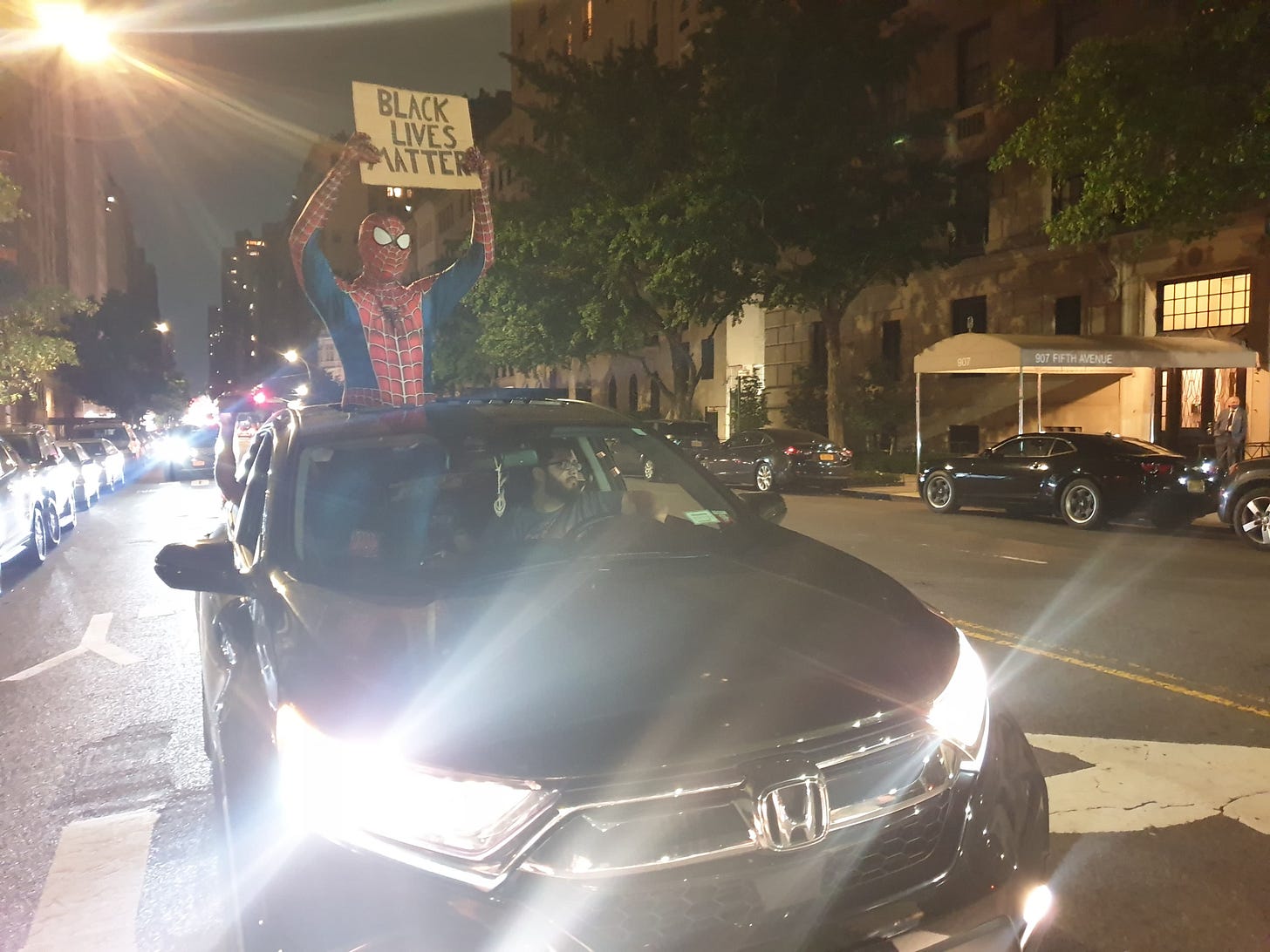 The cops are still trailing behind the group, revving up on scooters and filming us illegally.
When we settle into a grassy field to watch a documentary on the Black Panthers, surveillance helicopters overhead provides an anxious soundtrack. Everyone is jumpy and exhausted. Never in my life have I watched a MOVIE in Central Park while surrounded by cops. "I am extremely anxious," march organizer Victoria tells me, "This park is extremely dark, there are cops everywhere watching us, as soon as this movie screening ends we are out of here."
1am: THE VOGUE BALL
I decide to peel off, my buzzing phone a reminder of the growing numbers of eyeballs on the other side of my screen, and how I have to figure out distribute the kidnapping video into the hands of morning news. Later, I also realize that the video wasn't taken by X, but rather a journalist named Brandon English, and with so many news outlets sharing my tweet, there are snowballing complications over proper accreditation. Around this time, we also get word that Stickers has been released from the precinct.
I wanted so bad to make it to the end of the march, which was supposed to conclude with a vogue ball—a New York-born underground dance subculture that was created by black and brown drag queens in Harlem in the 1970s. But the cops have barricaded the area of the park where the ball was supposed to take place, and someone on the loudspeaker also tells us that the police broke up attempts to start the ball because of "covid concerns."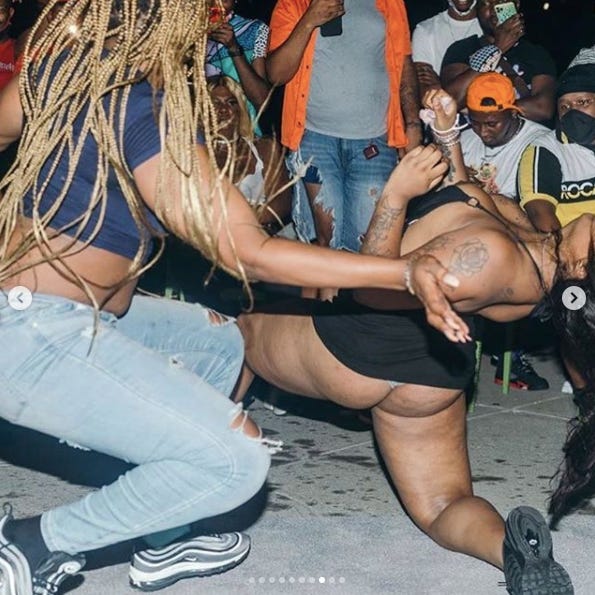 Image via FreeBlackRadicals/sidewalkkilla
Unbeknownst to me, however, the vogue ball had changed locations to the other side of the park. The police still tracked them down, waiting at the sidelines to give citations once the park closed, and fears that they would arrest attendees would eventually cause the ball to cut short early.
But under the cover of darkness, queer black and brown bodies did the duck walk, spun around in pirouettes, and crashed to the ground dramatically in a powerful tradition of political resistance embodied in their defiant bodies. Their eyes were raised to the gods, and in that moment, they felt free.
Rave New World is an independent newsletter fueled by my readers' paid subscriptions. If you appreciate this reporting and want to help me take this project to protests in other cities, please consider subscribing!