HEALING GARDEN: A THERAPEUTIC AUTONOMOUS ZONE
Weed Rave is creating a healing space with political talks, DJ sets, and therapeutic rituals in a historic Brooklyn park.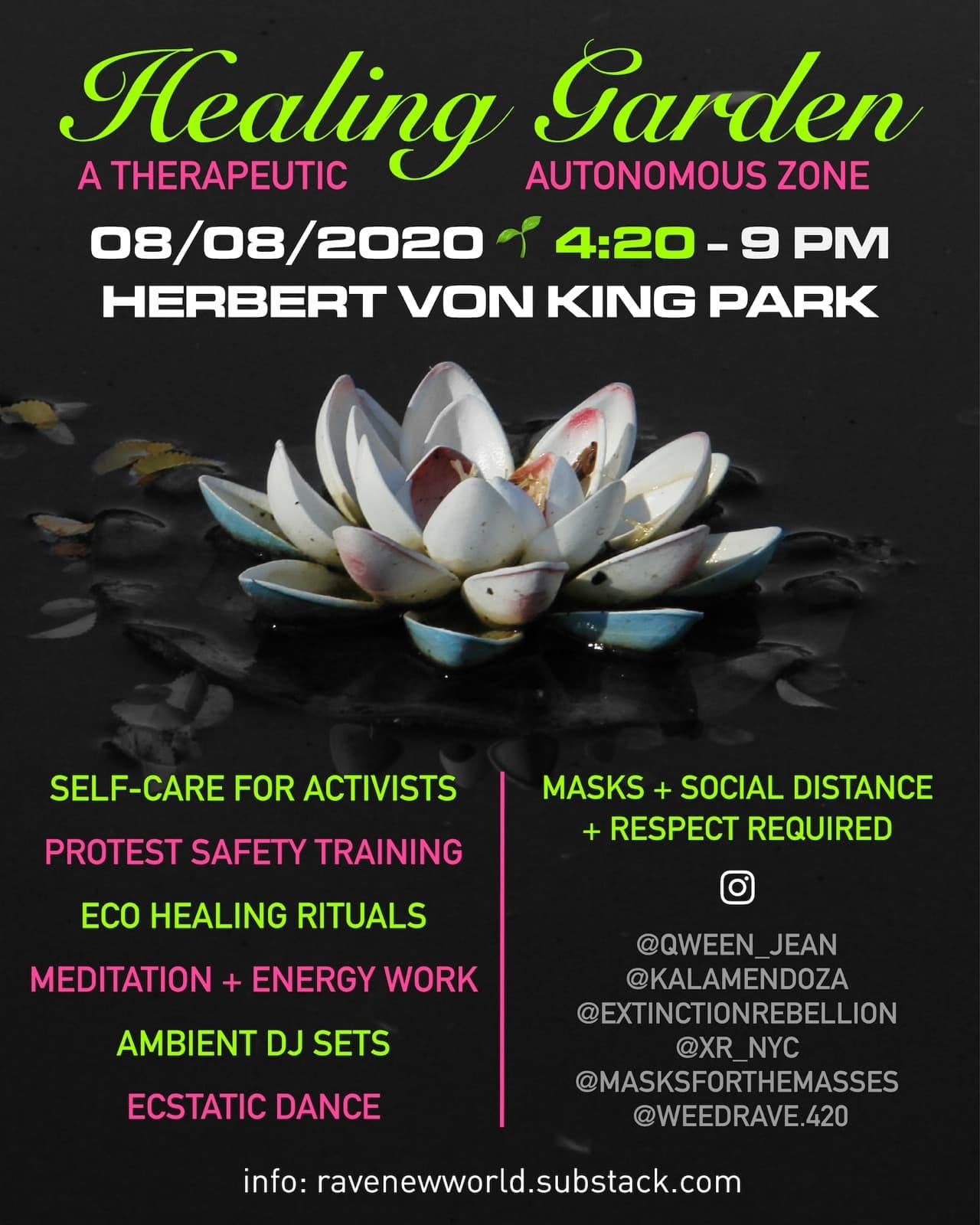 Rave New World is an independent newsletter fueled by readers' paid subscriptions. If you want to support this event, help pay the activists/artists, and grow this platform, please consider subscribing!
On August 08—which happens to be 808 Day and National CBD Day—Weed Rave is teaming up with some of New York's most inspiring political activists, DJs, and rave crews to create a Therapeutic Autonomous Zone (!) called HEALING GARDEN. This free community event is going down from 4:20 - 9pm at Herbert Von King park in BedStuy, Brooklyn—a historically Black neighborhood with a rich history of political activism. (This neighborhood is where Shirley Chisholm became the first black woman and West Indian American ever elected to the US Congress, and where thousands of New Yorkers rose up against the NYPD in the 1964 race riots. Biggie Smalls also used to rap in this park!)
New York has been simmering in the summer heat like a pressure cooker full of toxic stew. The energy in the air is febrile and caustic—communities have been splintered by tribalist feuds and social media warfare, crime rates are soaring, and after months of lockdown surrounded by a suffocating fog of darkness and death, New Yorkers are more on edge than ever, barreling through a dark tunnel towards no jobs no money no future. Everyone is exhausted, burned out, paralyzed, in pain. I came to New York in search of solace and salvation, and found it on the streets, spilling out in the blood sweat tears of protest actions.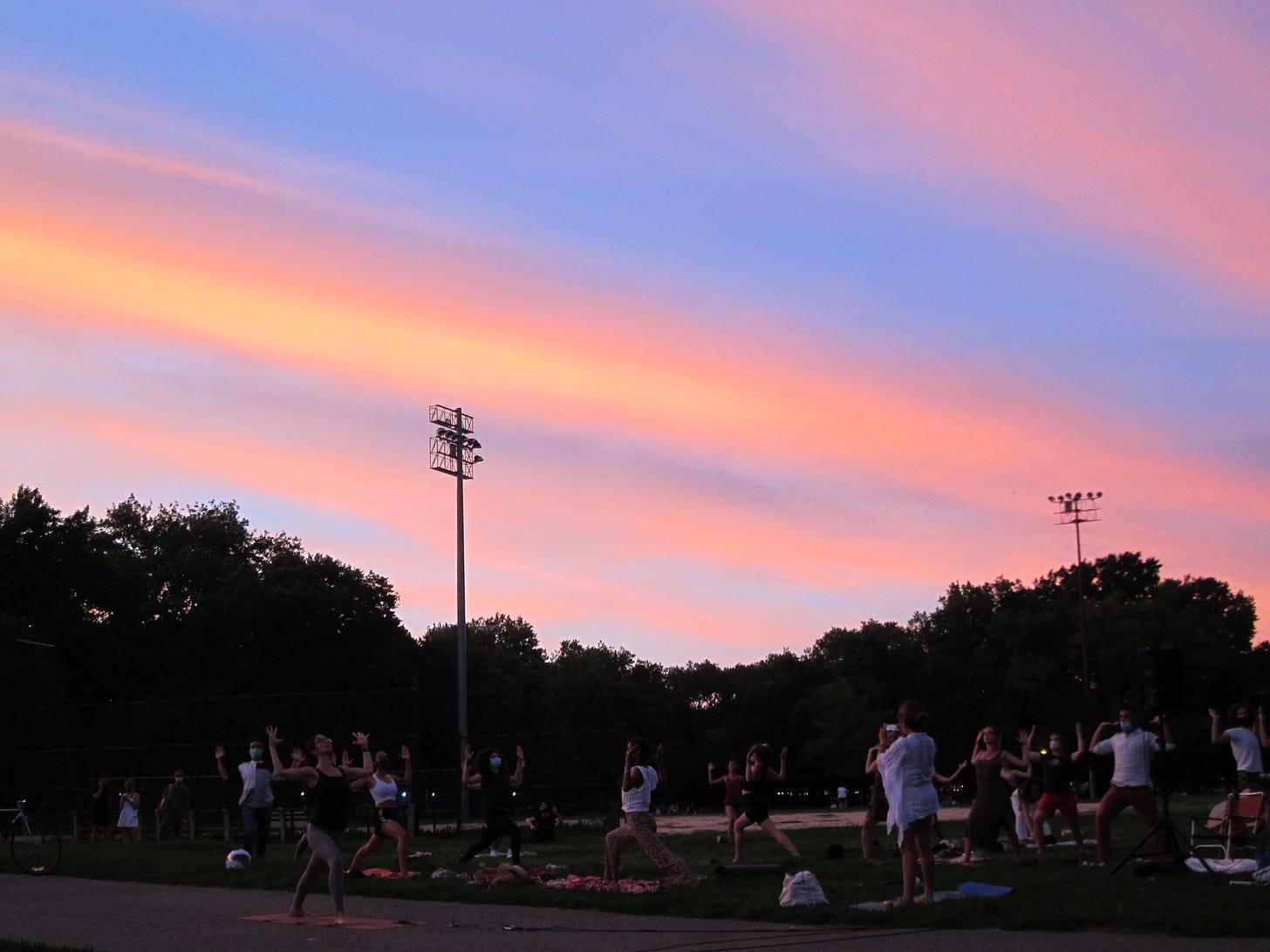 For the last few weeks, there have been outraged marches in thunderstorm downpours, where protestors screamed at barricades of cold-faced police outside City Hall. A 24-hour protest where a queer protestor was kidnapped into a van. Candlelit vigils for slain Black women. Protest picnics in Prospect Park. I've saluted the sunset at protest yoga and meditation sessions, and watched skateboards teach young activists how to use boards for self-defense. I've learned that not all protests have to involve police agitation, high risk, and disruption—sometimes, merely existing and helping each other to heal is already an act of resistance. As the activist Qween Jean said at a rally on the Christopher Street pier. "I am a black trans woman, and every time I walk out the door it's a protest."
The idea for this event arrived after weeks of deliberation about how to build more bridges between New York City's protest and music scenes. At first, myself and several other rave crews were planning to throw a protest rave at the City Hall autonomous zone, after protestors themselves asked us to help bring DJs in to the space. But when that zone got abruptly shut down by NYPD, the idea shifted towards a community healing action—a way to dispel the trauma and toxicities that have been continuously absorbed by our bodies to their breaking limits. Something to break this spell of darkness—or at least help us to recharge, and keep up the fight.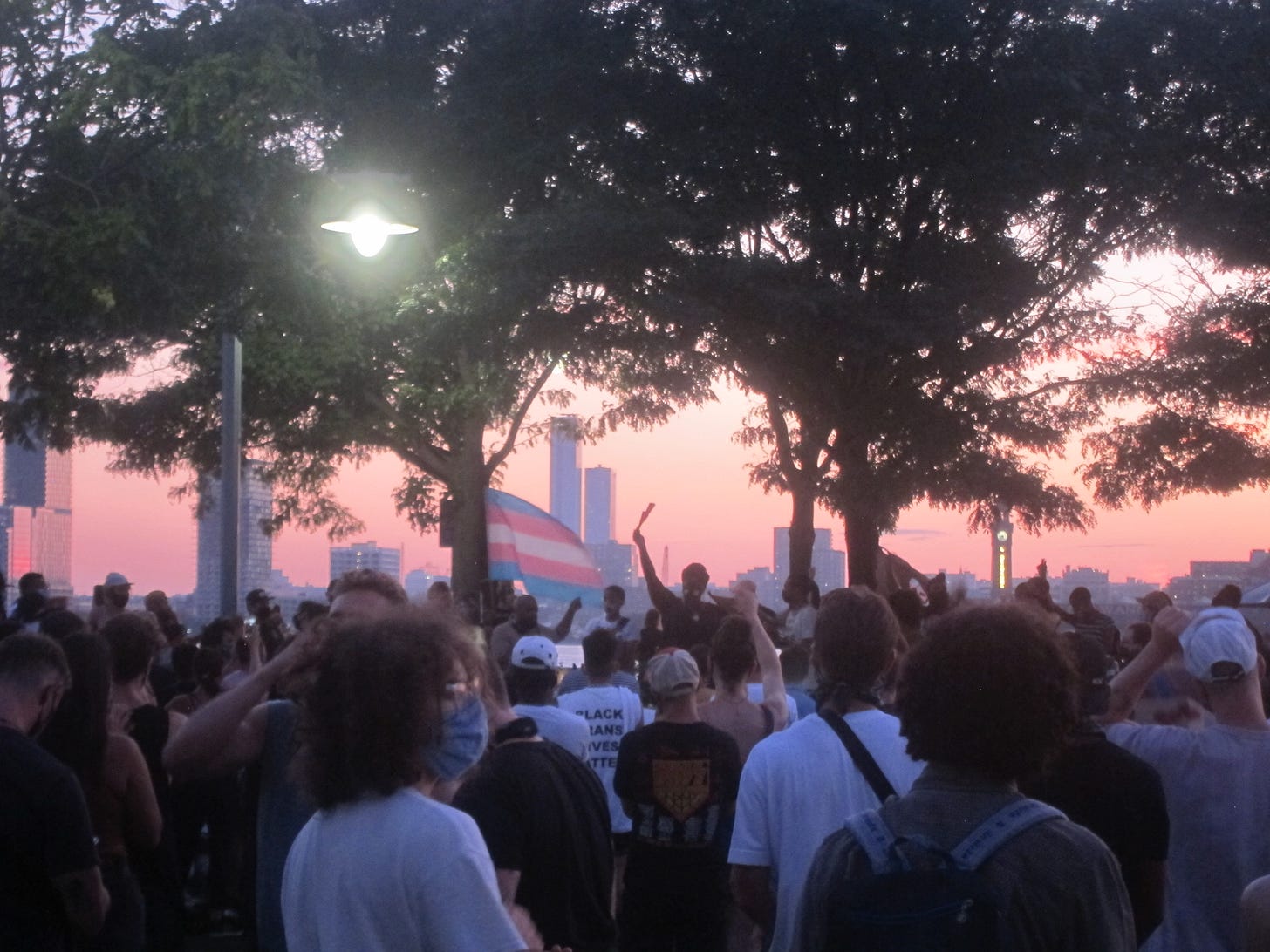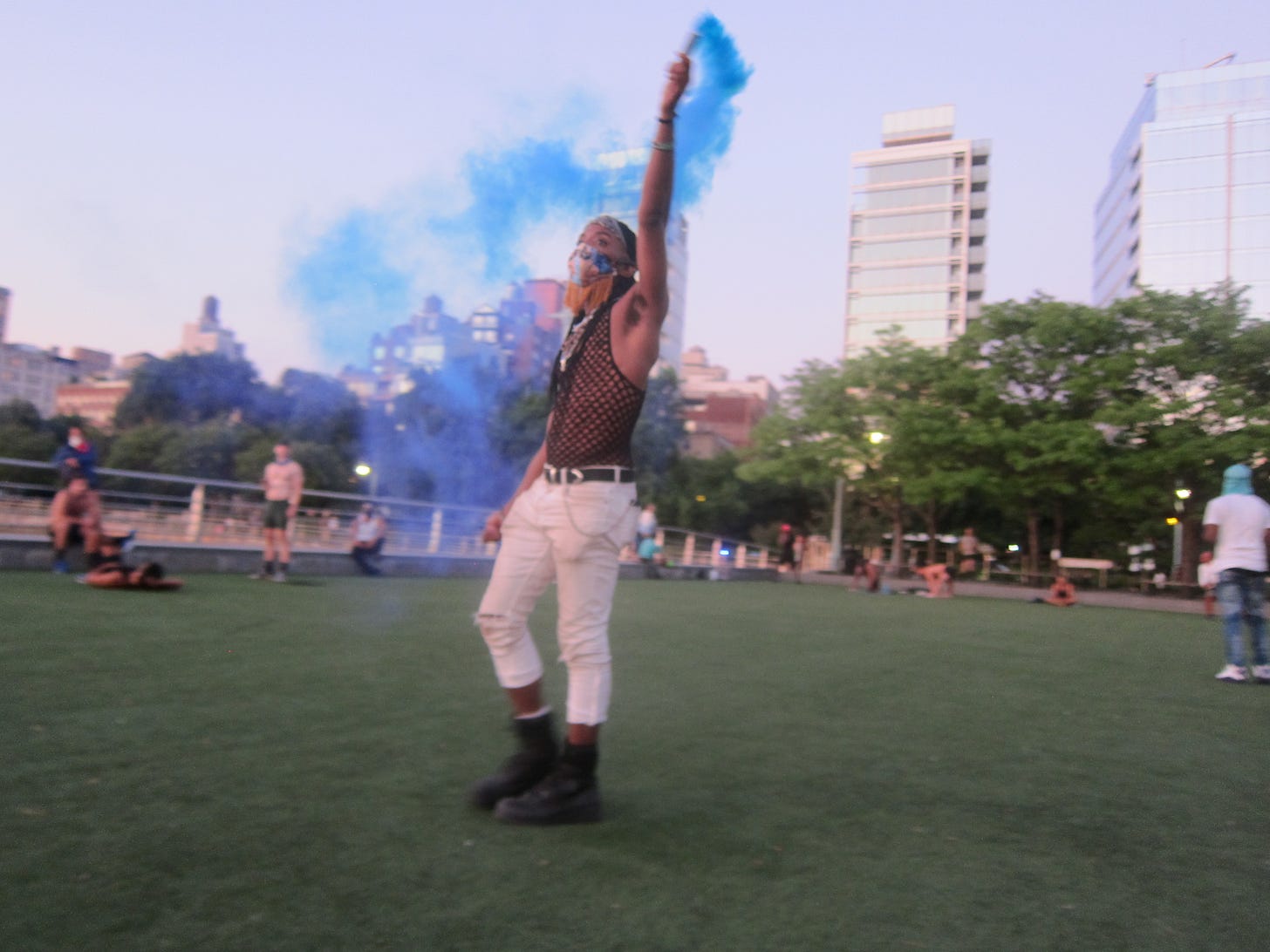 So tomorrow, some of the most inspiring queer + POC activists I've met over the past month are gathering to share their knowledge on self-care and safety, and lead us in rituals of group healing. This community protest action will also involve indica-vibe ambient music and dancing in rave culture's purest form—as a vehicle for energetic catharsis and community bonding. As a Cali Sober event, we welcome plant medicines, and are kindly requesting ya'll to leave hard drugs at home. Masks 4 Masses, a nightlife harm reduction group, will be handing out free masks and respectfully enforcing social distancing, and hopefully, we'll also give out some free CBD from our sponsors!
Below is more info about the activists and activities that will take place at Healing Garden—a Therapeutic Autonomous Zone (TAZ). We'll also livestream the event on Instagram. Please help us spread the word to everyone in need of some healing—see ya'll tomorrow!
KALAYA'AN MENDOZA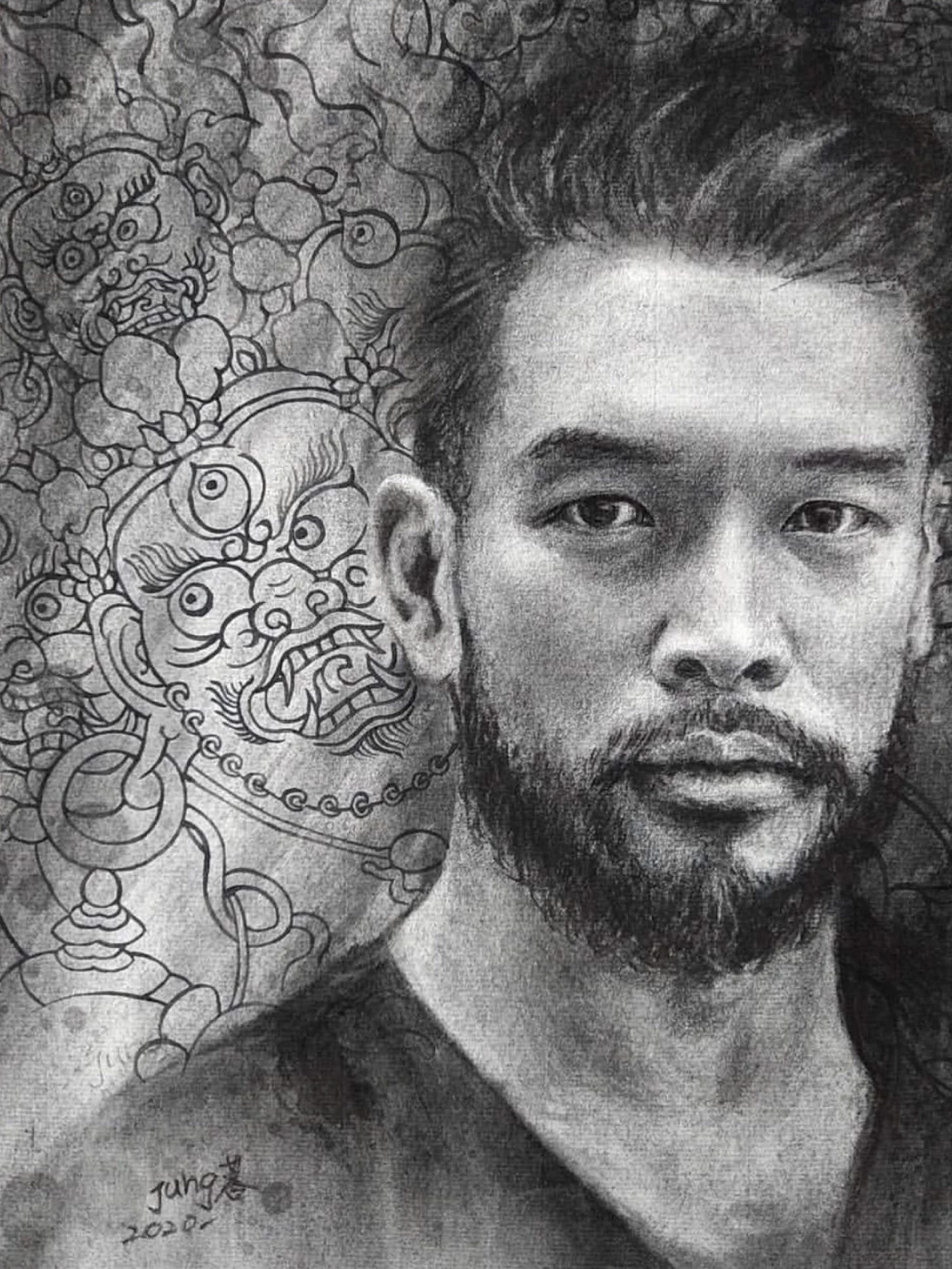 Kalaya'an Mendoza is a queer, Filipinx nonviolent direct action trainer and community safety expert. As the co-founder of Across Frontlines, he has worked the last two decades alongside human rights defenders at Ferguson, Standing Rock, and Charlotte, as well as the Free Tibet movement in the Global South. He most recently served as a Field Director with Amnesty International, and also helped coin the phrase #AsiansForBlackLives!
At Healing Garden from 5-6pm, Kala will lead a protest safety workshop training activists to stay safe from state violence. He will go over situational awareness and threat assessment protocols, as well as how to respond to less-than-lethal crowd dispersal tactics such as tar gas, batons, and LRADs. He will also teach us about de-escalation—a nonviolent process that I watched antifa security guards deploy to much success at the CHOP in Seattle, and can vouch is an extremely useful technique for resolving conflict. (Support Kalaya'an's essential work via Venmo: @KalayaanMendoza)
QWEEN JEAN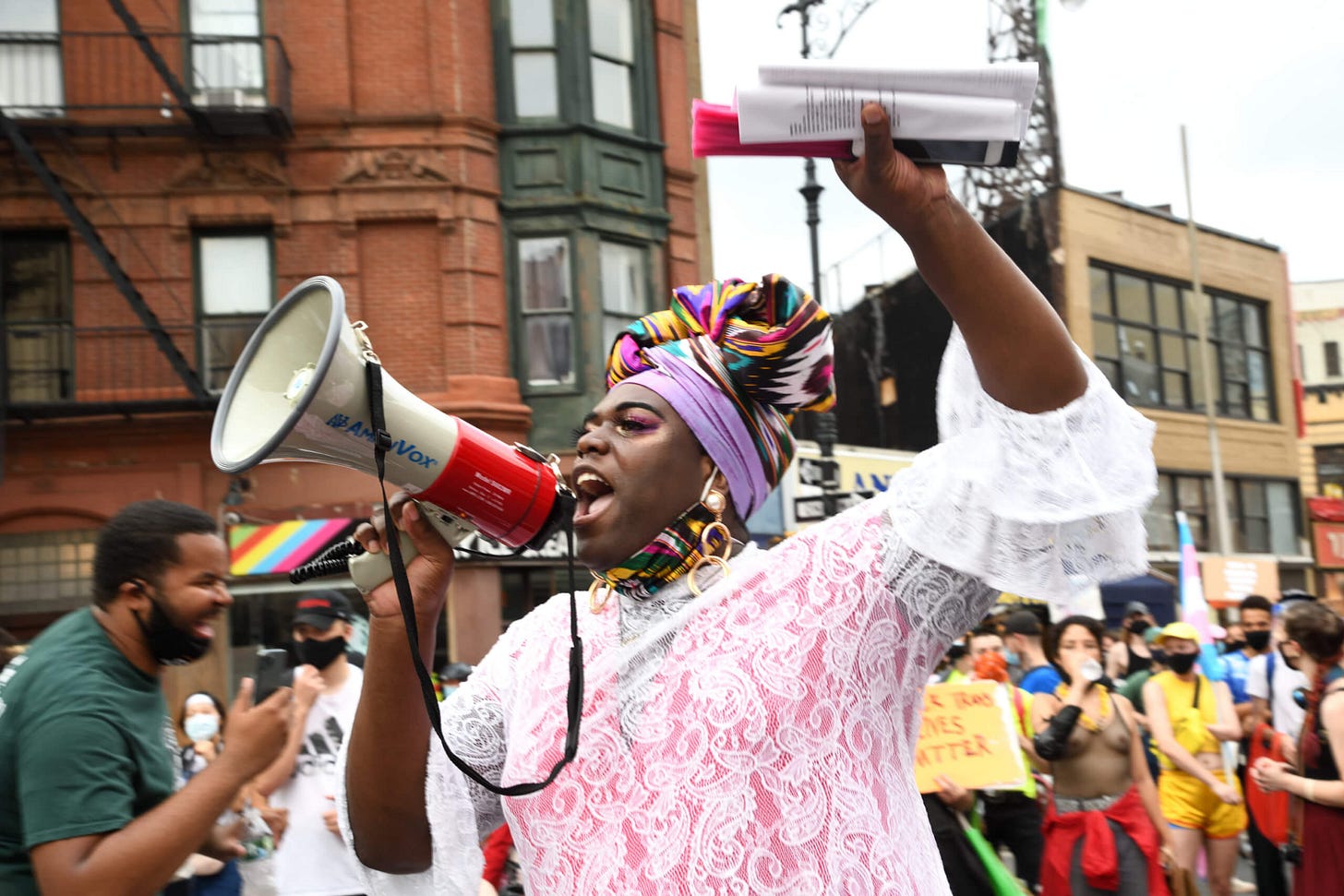 Photo via Gay City News
I first encountered the magnificent Qween Jean at a Black Trans Liberation march that she co-organized. Standing under the arch of Washington Square Park, the activist and founder of Black Trans Liberation cracked open her fan and delivered a powerful speech about how black trans women have always led the fight for revolution—and demanded justice for the heinous acts of violence that trans people are disproportionately exposed to. She was a force of nature, inspiring tears and laughter in the crowd, each statement met with thunderous applause.
A few weeks later, I watched Qween Jean take a stand at another Trans Lives Matter rally at the Christopher Street pier, a historically significant space for transgender sex workers and the vogue/ballroom community. "I am a black trans woman," she said forcefully, "Every time I walk out the door, it's a protest."
At Healing Garden at 6:30pm, Qween Jean will lead a discussion on self-care and healing from trauma—with a focus on queer, transgender, and people of color. (Support Qween Jean's essential work via Venmo: @miss_jean)


EXTINCTION REBELLION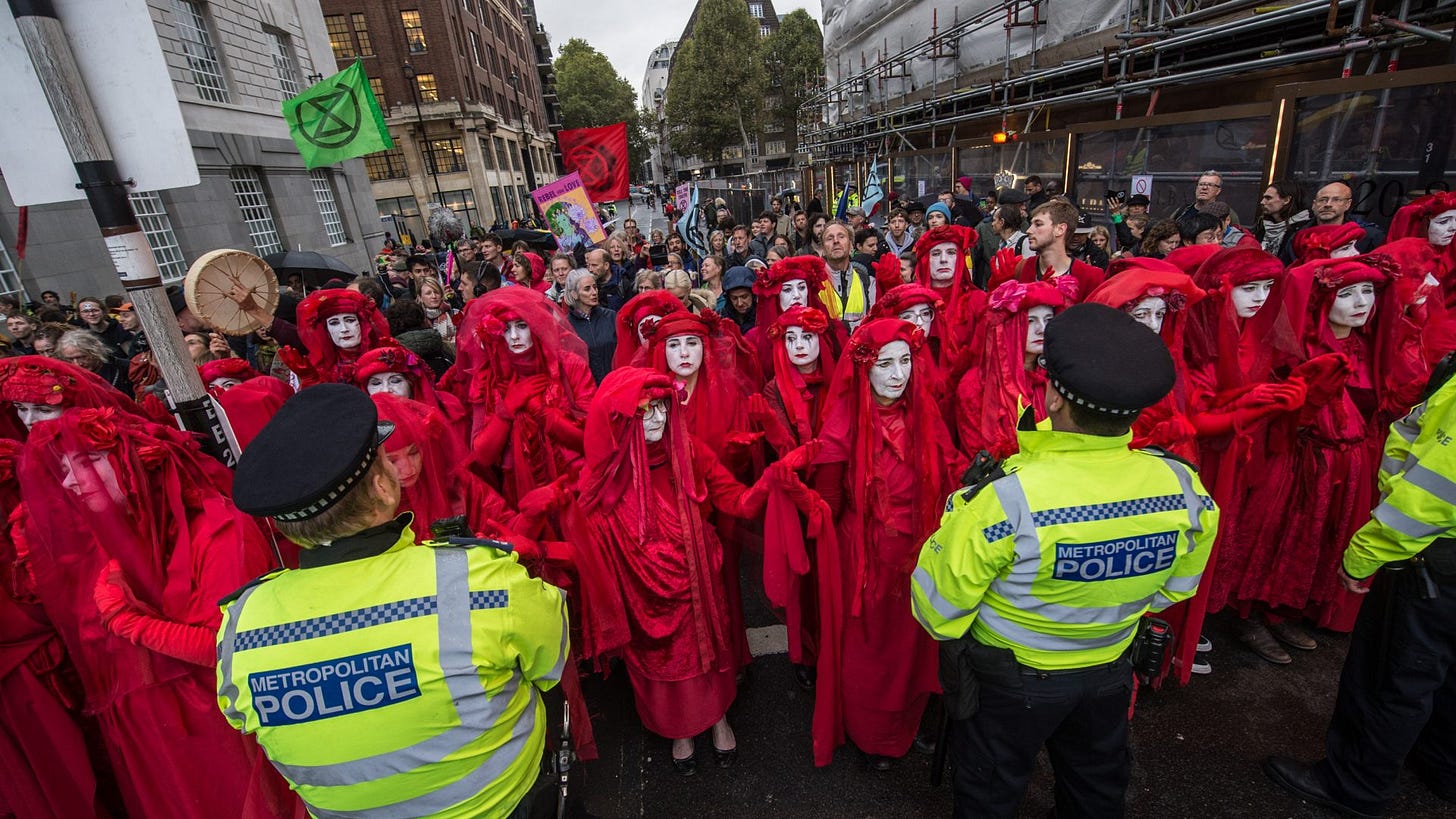 Extinction Rebellion (aka "XR") is a global environmental movement that uses nonviolent civil disobedience to compel government action and fight against total climate catastrophe. Inspired by grassroots movements such as Occupy and the Civil Rights movement, Extinction Rebellion has staged many protest actions all over the world, including occupying the Scottish Parliament, blockading London Fashion Week, and splashing fake blood on Wall Street's Charging Bull sculpture.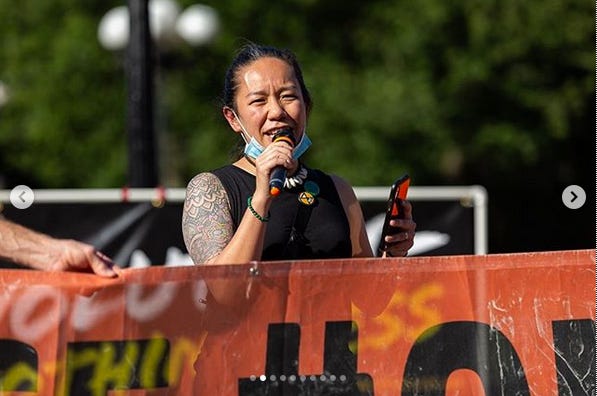 I met Mun, who heads up New York's XR chapter, at a discussion led by Resist Fascism, where she told me about how art and theater have played a vital role in many of XR's protests. She will be teaming up with XR leader Chelsea MacMillan for a talk on the intersection of climate and social justice, as well as leading an eco-healing ritual informed by her training as a High Priestess with the Wiccan Family Temple in NYC.
MASKS FOR THE MASSES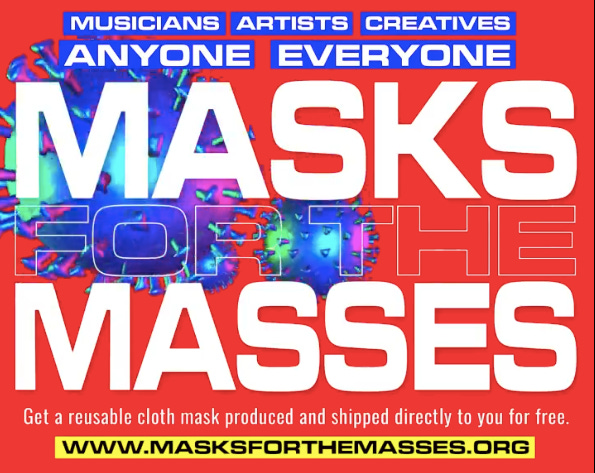 Masks for the Masses was started by a collective of Brooklyn ravers earlier this year, when New York became the center of the coronavirus pandemic. Their mission is to take the same community-based DIY culture to the creation and distribution of free masks for everyone—while emphasizing a harm-reduction approach to ensuring the safety of social gatherings. At Healing Garden, Masks for the Masses volunteers will be handing out free masks and hand sanitizer, respectfully enforcing social distancing, and educating anyone who wants to learn more about mask safety.
Rave New World is an independent newsletter fueled by readers' paid subscriptions. If you want to support this event, help pay the activists/artists, and grow this platform, please consider subscribing!