RAVE TO THE GRAVE
In search of redemption and revolution in the pandemic nightlife underground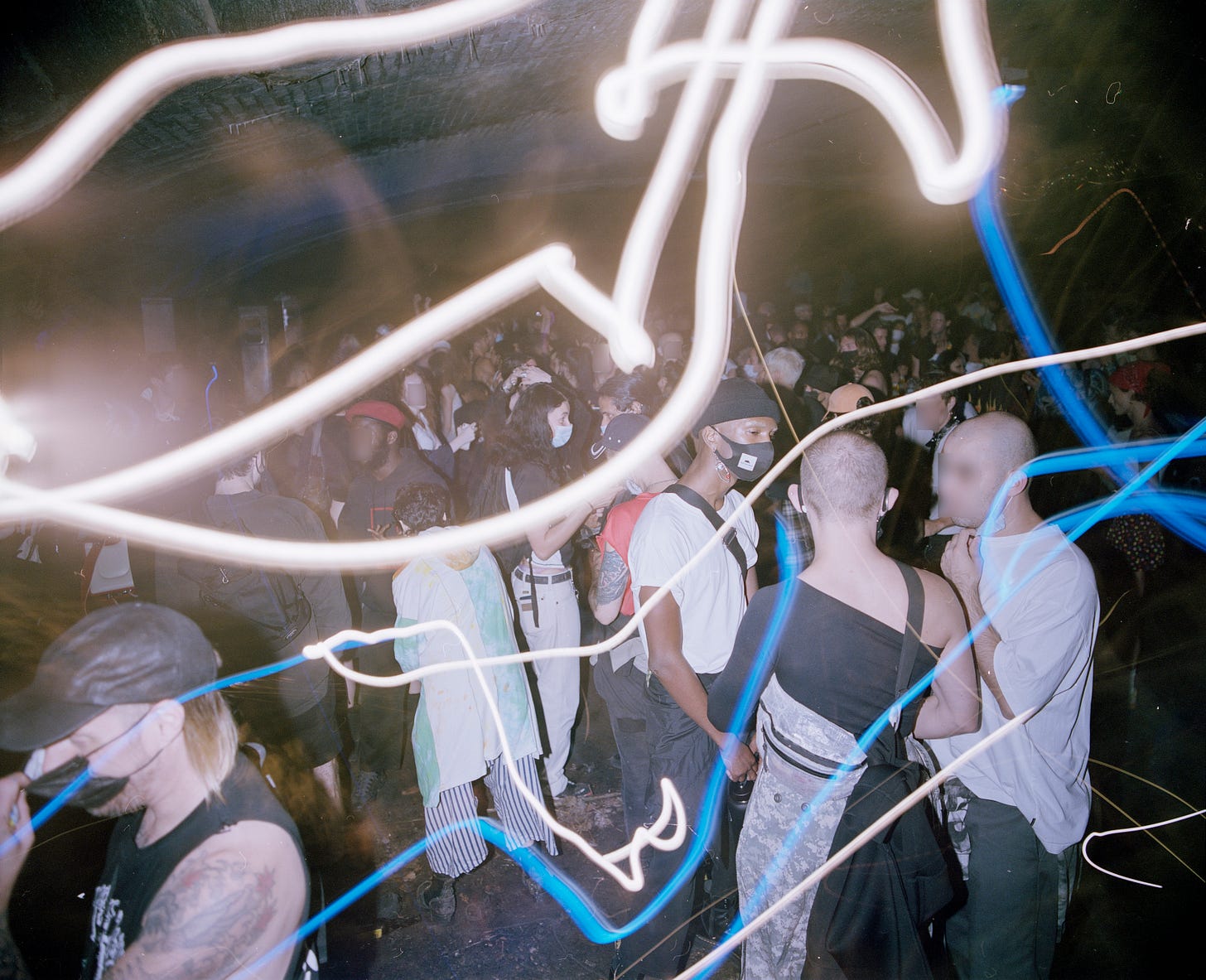 All photos by my dear friend Andy Egelhoff, a genius photographer and DJ who followed me into the pandemic rave underground last weekend
I'm back in Brooklyn, bitches, and this time, I'm seeking rave redemption. After pit stops in Washington DC for an epic protest-party, and Minneapolis to visit the (extremely underreported) George Floyd memorial autonomous zone, the final stop of my 2020 protest tour brings me back to New York, the city that nearly suffocated me in its toxic fumes the last time I swooped in—yet I always come crawling back, because New York nightlife might be my most fatal addiction. 
Raving in a pandemic is a thorny problematic fraught with both political and moralistic considerations. When large social gatherings become synonymous with public health disasters, the risks of raving can be difficult to justify—especially as masks come off and social distancing is thrown out the window as the night falls into boozy stupors. Parties have become hotbeds for the community spread of this disease, and recent indoor raves in Berlin have resulted in dozens of infections. At a time when personal risk is also community risk, one person's party antics could end up jeopardizing many more people who did not consent to their act.
In this pandemic era, raving has flipped from a celebration of community to the ultimate taboo, left to the young and the reckless who luxuriate in selfish hedonism at the expense of everyone around them. For many ravers, caring for the community now means sacrificing the thing you love most. Meanwhile, in the media, "rave" has been villainized as a catch-all term for any large outdoor gathering with amplified music, regardless of genre, with the New York Post and other gossip rags turning rave exposés into a pearl-clutching beat. As someone who's spent so much of the last decade stanning for the political and spiritual worth of raves, this cheapening of the culture into nothing more than immoral druggie escapism keeps sending me into spirals of heartbreak and disillusionment.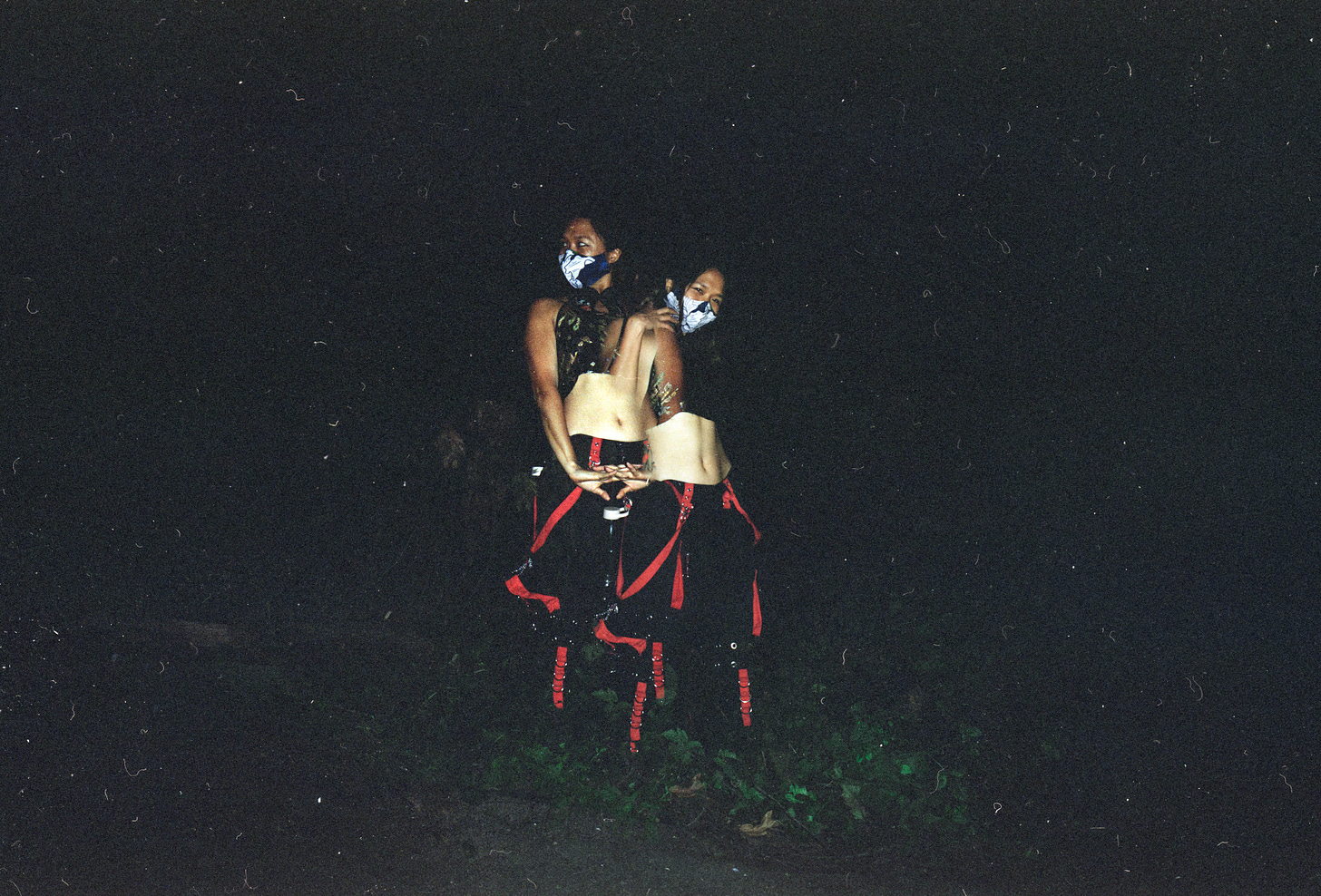 The last time I was in New York, during the sweltering peak of a caustic summer, the atmosphere felt toxic. I had just experienced a terrifying shooting at Seattle's CHOP autonomous zone that resulted in the death of two teenagers, as well as a heartwrenching memorial for a queer protestor killed while holding up a highway. My body felt steeped in so much trauma and pain.
I came back to Brooklyn seeking solace from the nightlife community that shaped so much of who I am. I was also excited to see how the New York rave scene was morphing with the revolution—would there be Berlin-esque techno walls of sound to drown out alt-right Nazis? Massive protest-party marches like Love Parade? Or would ravers take over the streets and highways with sound-systems, like the UK rave-inspired 90s resistance movement Reclaim The Streets? 
Instead, I was confronted with a fiery debate over whether raves should happen at all. The ravers were freaking out about other ravers shooting up ketamine on the streets and throwing livestream parties nicknamed the Meth Gala (admittedly, lol)—the drug use that's always been the underbelly of this culture has taken a more hardcore turn. The political thrust of rave culture was also underwhelming: two separate party crews threw outdoor "protest raves" on industrial sites, and the backlash from the community was swift and cutting—the organizers were slammed for their social irresponsibility, and the "protest" elements were perceived to be lacking. (Supposedly, a few ravers carried protest signs, and a DJ may have played a protest track or two.)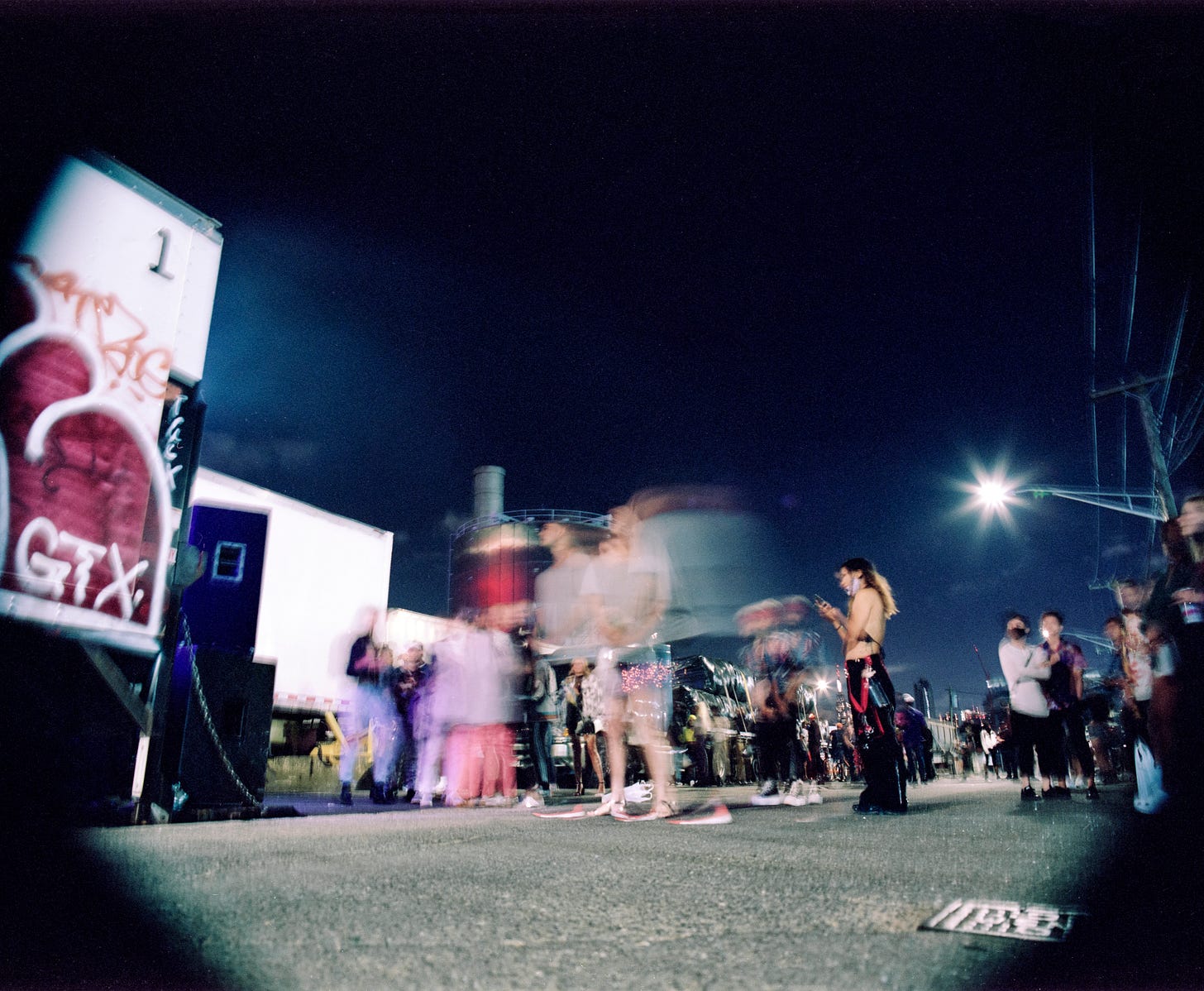 When protestors at New York's autonomous zone invited me and a few other party crews to throw a protest rave there, in order to bring in fresh faces to a space that was losing numbers, my collaborators and I anguished over how we could do this without getting cancelled. (In the end, the zone was surprise-raided by the NYPD before our party plans got off the ground.) 
I started to loudly question what was going on, and was told to shut the fuck up and sit down. I wasn't here in New York for the height of the pandemic, when everyone either fled the city or stewed in their claustrophobic apartments to the soundtrack of nonstop ambulance sirens. The PTSD that New Yorkers were still carrying from those hellish months was carrying over into the rave debate, and was a major reason why so many people couldn't fathom how large gatherings could be ethically justified.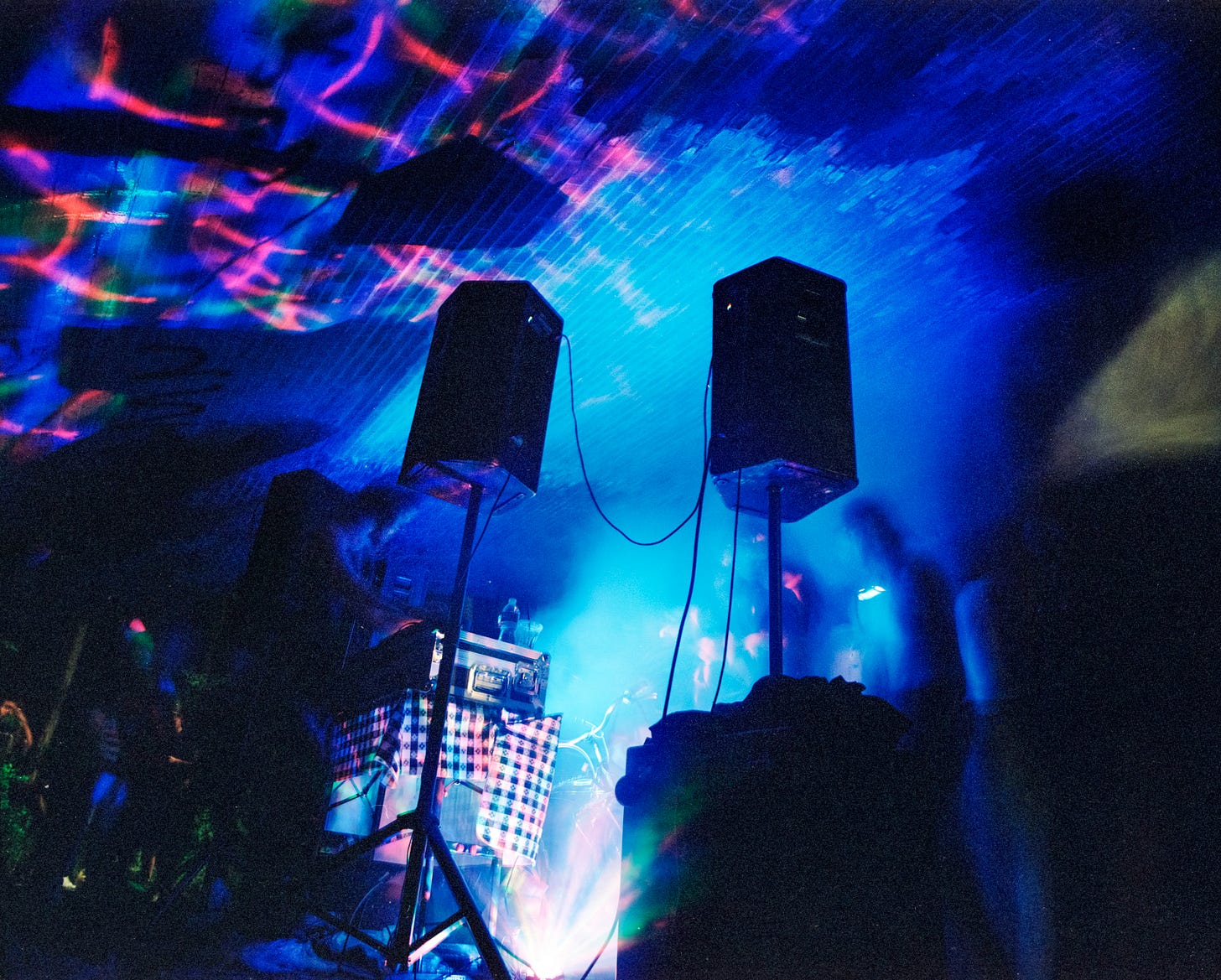 Many leaders in the scene felt that mass partying shouldn't be happening, period. The difference between protests and raves, wrote Frankie from Discwoman in a blog post, is that the former is essential while the latter is not. "I don't believe there's a good enough justification for any of these events to continue in light of having such limited and shifting medical facts," she wrote, while pointing out that the highest-paid "business techno" DJs like Adam Beyer and Nina Kraviz have also played massive raves in Europe during the pandemic with zero social distancing. Frankie positioned the rave debate in terms of racial inequality, capital, and sacrifice: "We cannot examine this industry without looking at where the majority of the power and money is concentrated," she wrote, "and how those who are in the position to make greater sacrifices should be doing so." 
A rave elder—a DJ with a party residency at a major club—told me that in his eyes, kids who were running around throwing reckless raves were fucking things up for established promoters, by delaying the timeline for when nightclubs can reopen again. Another promoter who threw some of the city's biggest techno raves, and is now choosing to lay low, put it in terms of police inertia: now that the cops have become hyper-alert about shutting down illegal parties, he feared that this crackdown momentum would carry over to when official nightlife starts up again. making it more difficult to throw underground parties in the future.
A party-loving friend who has been living with his parents and obediently sitting at home also pointed out that partying is a form of privilege, best afforded by those with access to healthcare and medical treatment. By attending and posting about these raves on social media, I was inherently lending my support to a dangerous phenomenon that is disproportionately affecting marginalized groups, he argued.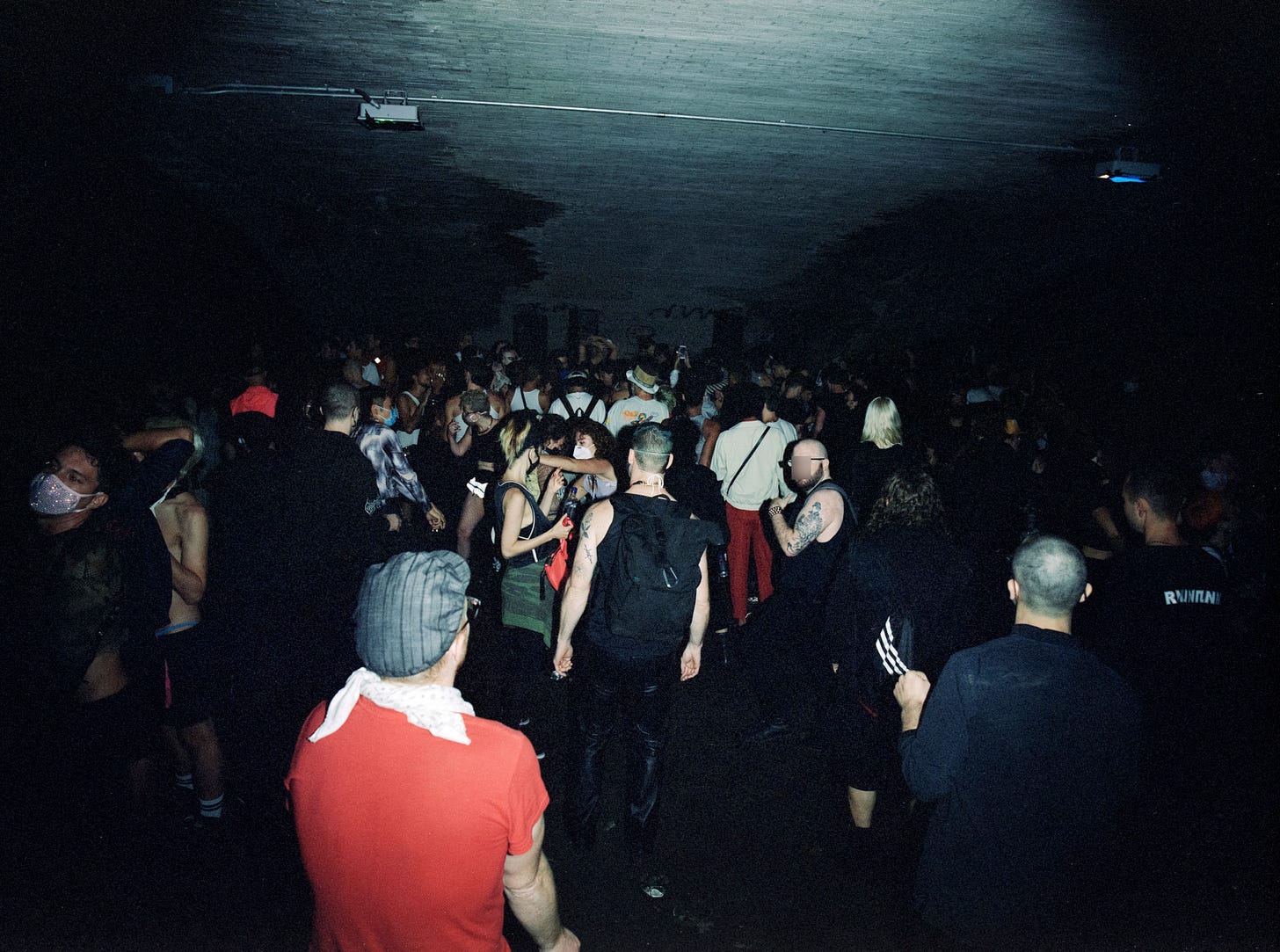 This is how I see it: There is an intersection between rave and protest culture that can be mined to the benefit of this political moment. Throwing a party is an engaging means of community mobilization—by organizing people with shared values into a physical space, their efforts and energies can be channeled to explicit political gains.
For example, earlier this month at the Philadelphia autonomous zone, activists organized a block party on the night before a scheduled eviction, so that people who showed up to defend the space had a way to stay awake and keep their spirits up. But the music they played on the speakers was shitty Top 40 tunes, and the energy quickly dissipated as people went home to nap. I know for a fact that if they'd thrown a rave with a proper DJ, people would have stayed at the barricades till sunrise.
Rave culture can go further than throwing livestreams and fundraising to support this movement; it can also bring people back out to the streets at a time when the momentum of this movement is starting to cool off. The extremities of rave energy can also be a visceral form of resistance—I've been to sonic demonstrations in front of the mansions of mayors in various cities, where protestors have blasted industrial and noise music in the middle of the night. Why not do the same with techno? In cities like Washington DC, Portland, and Minneapolis, DJs from the electronic underground have been pulling up to protests, and playing 90s Fatboy Slim anthems in front of jails, and blasting drum and bass during violent clashes with the police. In New York, the go-to protest DJ isn't someone from the nightlife scene, but a white guy with a mobile speaker who usually busks in the subway. (To his credit, he knows all the cunty vogue tracks!)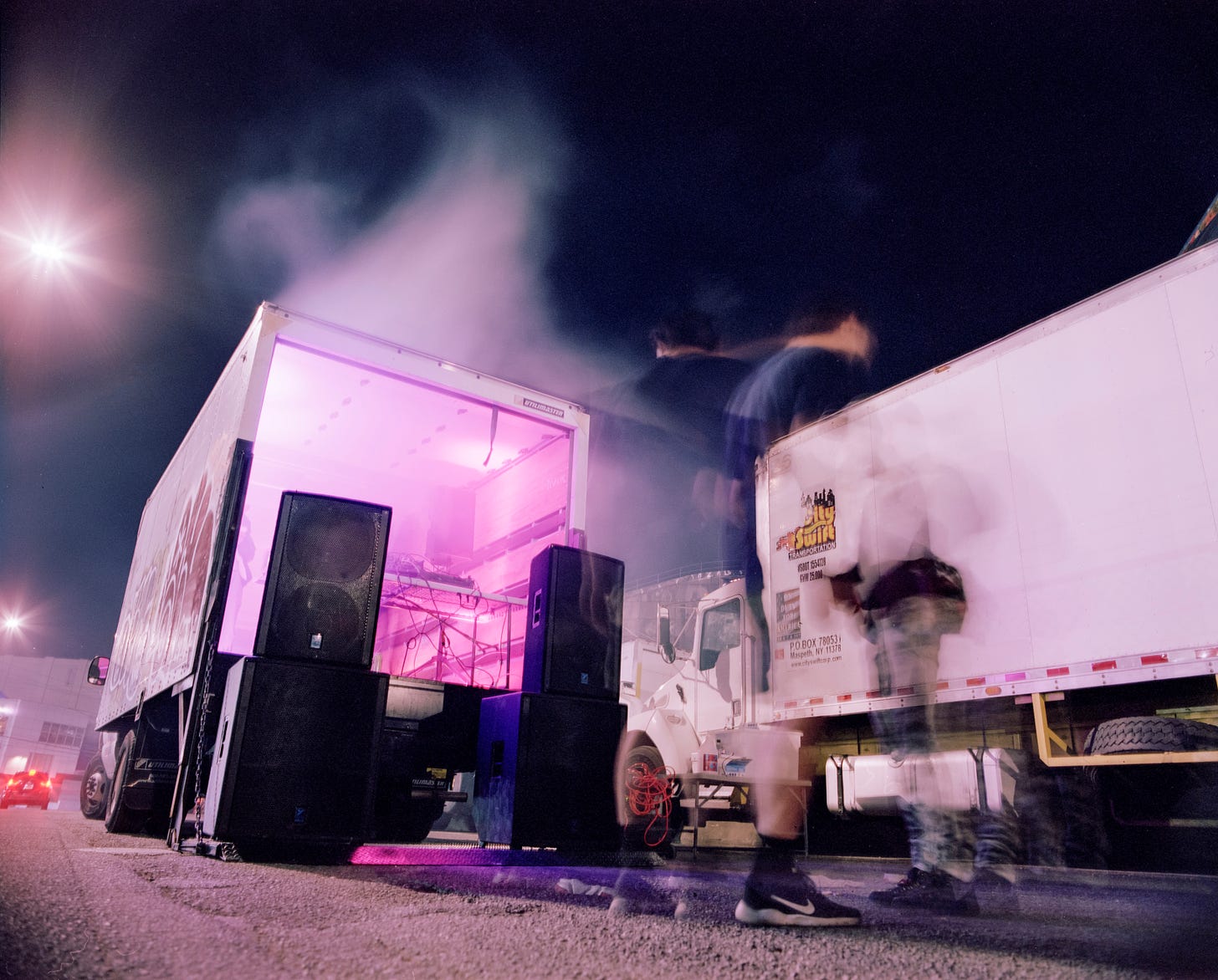 In order for raves to remain relevant, rather than dismissed as selfish hedonism, they must evolve to this political moment. The social culture around them must also adjust to the new norms of mask wearing and social distancing—as difficult as this can be when you're on drugs. In fact, the way I view pandemic raving is similar to my stance on drugs. Prohibition simply does not work—and if people are going to engage in risky behavior, the best way forward is to focus on harm reduction, rather than drive this culture further into the shadows. 
During my time in New York, I've been to a lot of parties with various levels of risk and safety precautions. There are rooftop raves that function like DIY venues, complete with built-out sound system, fancy roof canopies, and expensive laser rigs, where hundreds of kids in their early 20s are congregating with no masks, as if this was a time warp back to Bushwick in 2014. (At one of these raves in August, a man snatched my bag on my dancefloor and robbed me of thousands of dollars of gear—a reminder that even though the party's energy felt familiar, we're not in the halcyon, more innocent days of DIY Bushwick anymore.) My friend S has been throwing wildly controversial renegade raves in far-flung industrial corners of Brooklyn, where he's had booths giving out free masks and hand sanitizer—right next to dudes getting their dicks sucked on the dancefloor while filming videos for their OnlyFans. 
Last weekend, I went to a dope old-school house music party in an iconic downtown NYC park. This party struck me as the most responsible and wholesome party I've been to yet; it took place during the day, everyone seemed sober, and the organizer—a Black house music dancer in his late 40s—hopped on the mic every 30 minutes, reminding the crowd to keep their masks on and stay apart. The NYPD even came by and handed out N95 masks! But, in a clear sign that even the city authorities can't come to a consensus, the parks department showed up an hour later and shut it all down.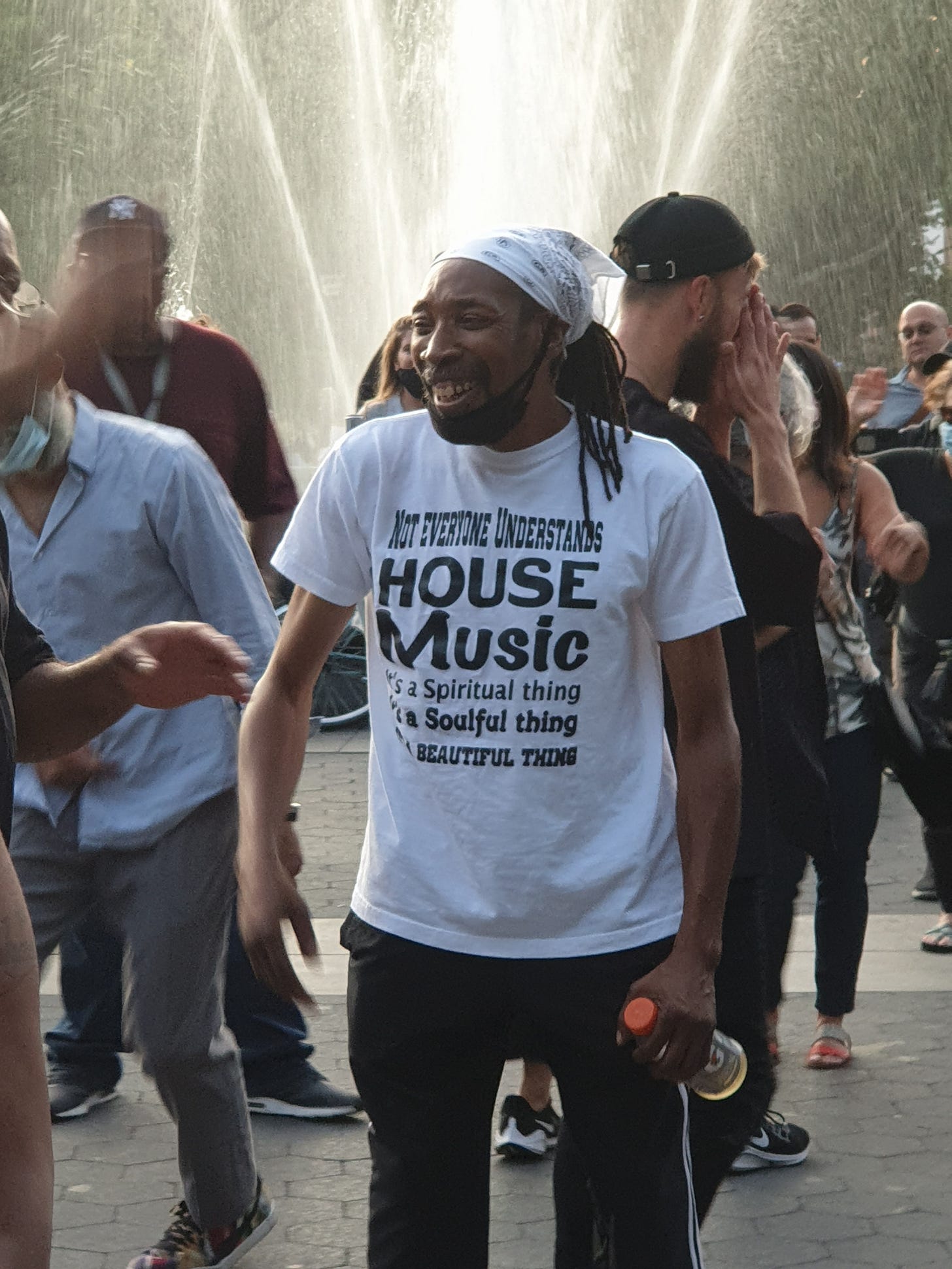 Later, I had a chat with the organizer, who told me that he'd been throwing parties in the park all summer, and this was the first time they'd been told to stop. "Hispanic and Black people, we've been dealing with police for a long time, this pandemic is just the next level," he said. "We can't do anything, they think we don't matter. We're just trying to enjoy our lives for however long we got. They want us to be peaceful—but they won't let us have a moment of peace."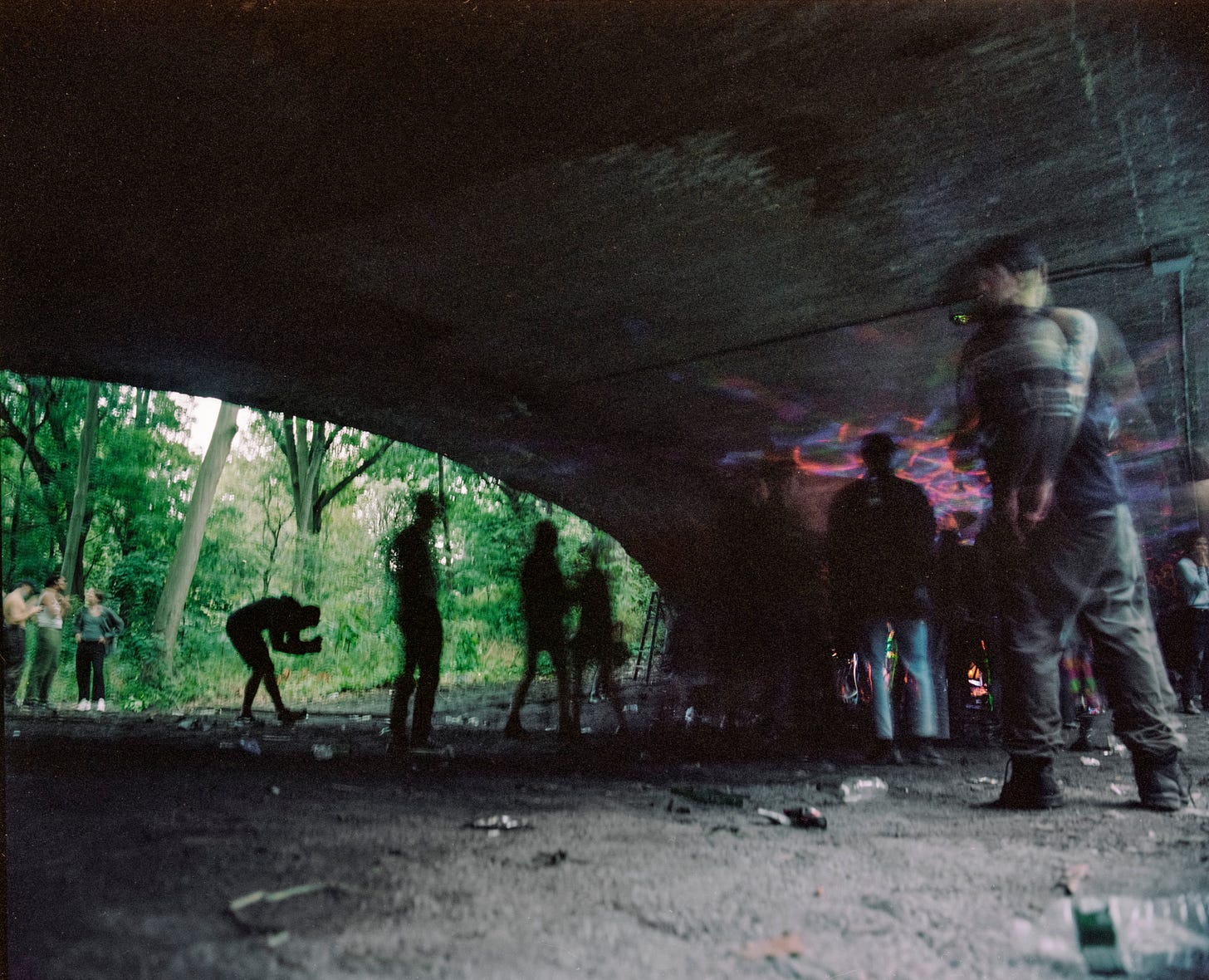 When that party got shut down, I made my way deep into Brooklyn, to a rave under a stone bridge in a lush forest, thrown by a coterie of avant-garde fashion-circle kids. This crew seemed to have figured out the new rules of getting away with a pandemic rave: the flyer was explicitly not allowed to be posted on social media, so you had to be in-the-know to be there, and there was (allegedly) even a noise fake-out down the street to confuse the cops, who never showed up. A hundred or so ravers pulled up in full apocalyptic doomer-fantasy looks—tactical gear, gas masks, elfen ears, hooded capes, alien makeup. (Half wore masks, half raw dogged it.)
Dancing to accelerationist techno under the pale moon as fires burned across the country and a deadly virus lingering in the air, it felt like we were raving at the end of the world, not knowing whether we would live or die. Ravers lit sage and candles as if praying for salvation, and this powerful pandemic pain, intensifying over months of lockdown, exploded in anarchic paroxysms in what felt like an ancient, sacred ritual. It was pure demonic energy.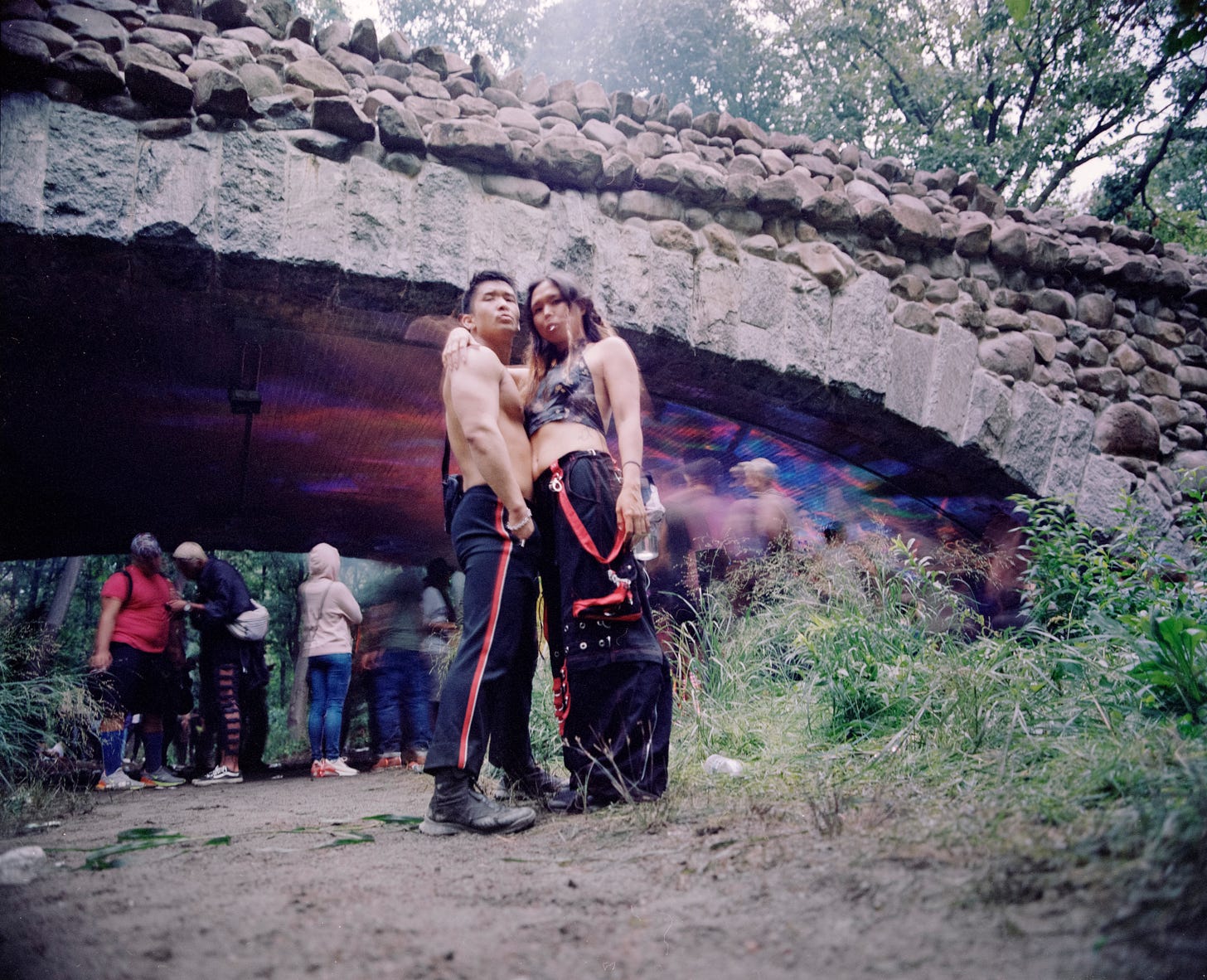 During the last song, as the purple dawn light started to break over the trees, my limbs fully locked into the rhythm, and I floated somewhere out of my body, eyes closed, head thrashing. I felt all the pain and trauma from this summer that I'd been holding in my bones release into the ether in a climax of full rave catharsis. This is ultimately what the most powerful potential of rave really is, as a form of healing and spiritual transcendence. The price we pay for these moments has never been steeper, as the risks of raving in a pandemic could send you spiraling into the grave. But in the face of global climate chaos, techno-fascism, and an endless procession of misery and death, rave culture must adapt to the political exigencies of this cruel new era—or languish in its ignoble and unethical irrelevance.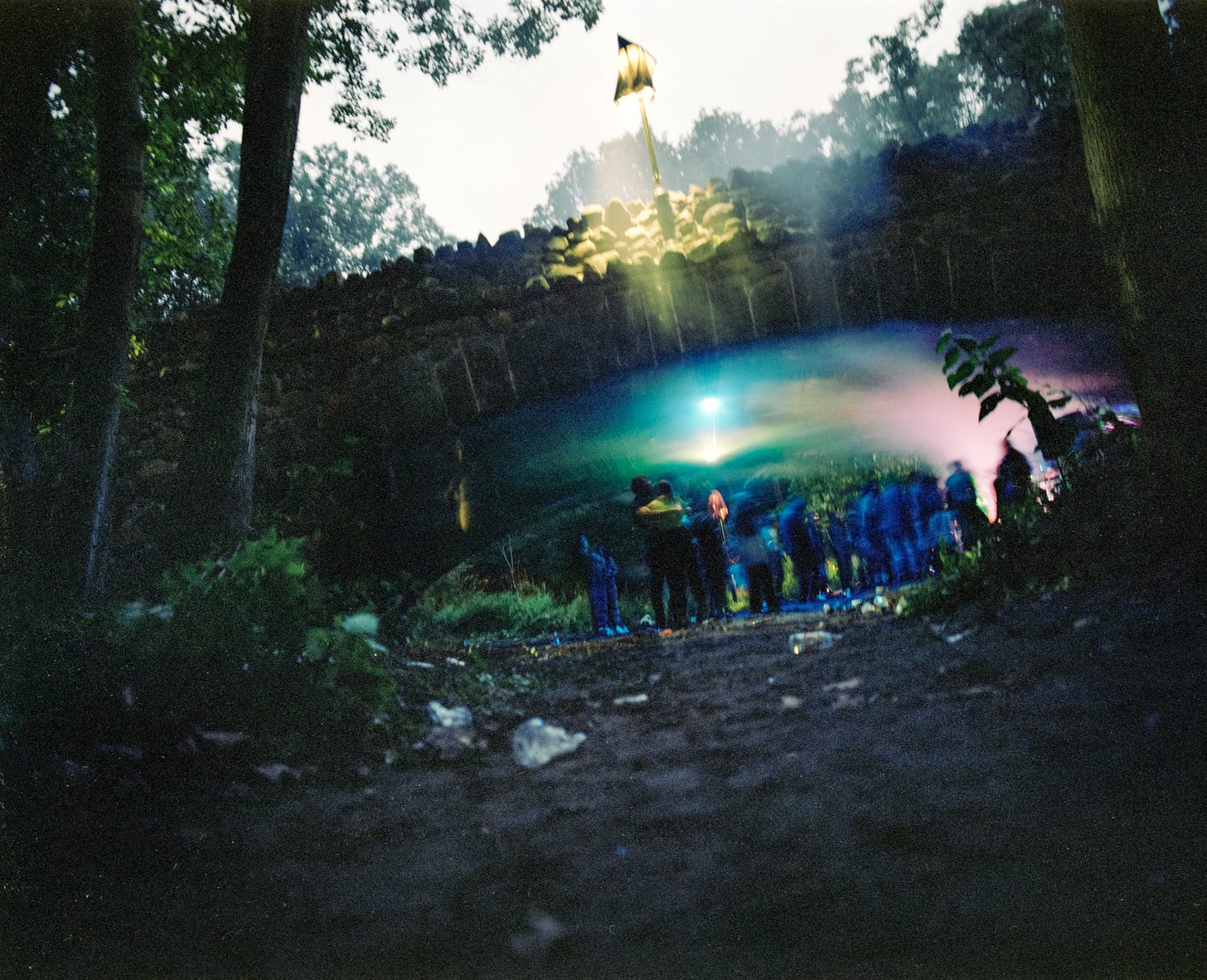 ---
CLUB SOBER
Head's up, subs: Club Sober—the virtual group for ravers and other hedonists interested in exploring the flip side of drugs—is hosting our next online hang this Sunday at 6pm PST / 9pm PST! Our last sesh was so cute that we're doing it again: a rave meditation and discussion of sobriety via Buddhist approaches to addiction. (The sober text we're reading is 'Refuge Recovery' by Levine Noah) To join us, upgrade to a paid subscription tier and you'll get the link to the Rave New World Discord. See you there!
---
HALP!
I jumped into this newsletter at the height of this pandemic as a radical experiment in independent counterculture journalism—freed from the strictures of mainstream media, straight from the underground, balls to the walls, no shits given about traditions or rules. Now that my summer tour of autonomous zones is winding down—and those unemployment checks are drying up—I need you to help me keep this newsletter going. 
Over the past few months, I've reported from the revolutionary frontlines of Los Angeles, Seattle, Minneapolis, New York, Philadelphia, and Washington DC, examining this surreal historical moment from the lens of music and counterculture. I've also recorded podcasts, livestreams, and video interviews with vital voices from this movement, and have more multimedia projects in the works. 
If you like what's unfolding here, but have been on the fence about paying, THIS is the time to throw down by upgrading to a paid subscription tier. It costs the same as buying me a fancy ice coffee once a month, and you'll get to join a cute community of smart freaks on the RNW Discord. We meet virtually to chat about sobriety, drugs, partying, etc and do rave meditations, and I'll be launching some spicy sub-only content soon >:)  
To everyone who's already become a paid subscriber, THANK YOU. You're the wind beneath my wings lol, and this freedom has allowed me to dig into many underreported stories that the mainstream media is missing, without sacrificing my voice as a perma-carrying stoner-raver. 
PS: if you don't have the funds, you can still show support via the attention economy—by pressing the "heart" button at the top of this post and sharing this post on social media. Love ya'll!!!