Discover more from Rave New World
Field notes from the frontier of drugs and raving, by gonzo reporter Michelle Lhooq
Over 8,000 subscribers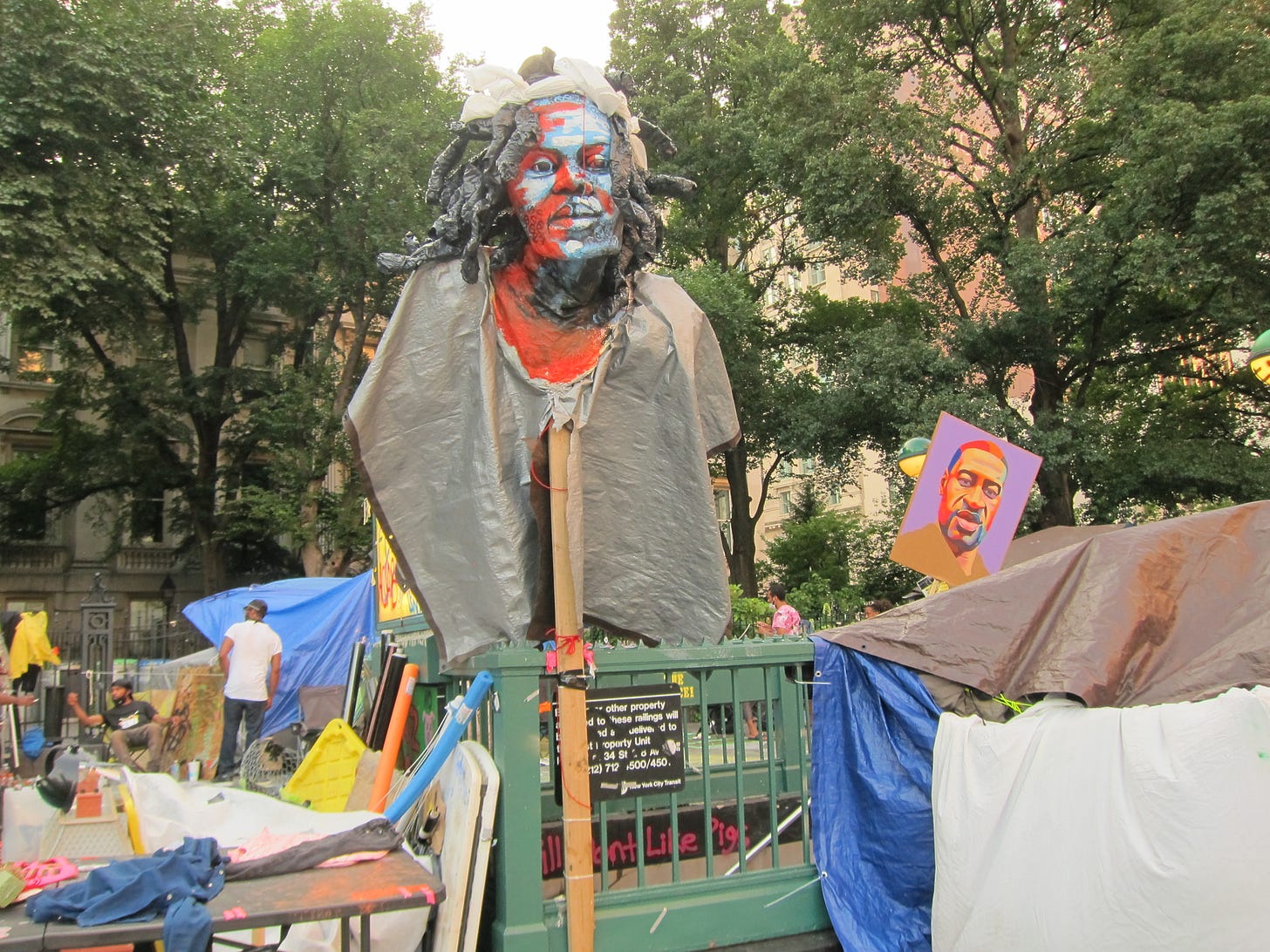 An anonymous work of art sprung up at the empty subway station in Abolition Park last week (All photos by me)
This morning around 3:30 AM, cops showed up in riot gear and swept Abolition Park (formerly known as Occupy City Hall) without any warning, ending a monthlong autonomous zone in downtown New York that began as a protest against police brutality and defunding the NYPD. "They rushed us without warning, harassed people, and tore up the tents, slashed up everything, even though there were people in there," a protestor who was present at the shutdown told me, eerily echoing the tactics used by Seattle's police during their shutdown of the CHOP earlier this month. "What was bizarre is they ended up pushing people back from Occupy City Hall all the way to Washington Square Park, that made no sense. [On Tuesday] DeBlasio also did a press release stating he would not order them to stop Occupy."
At a press conference today, Mayor de Blasio defended his decision to clear the camp, saying it "had become less and less about protest, more and more about homeless individuals who have gathered there." Joining de Blasio at the presser, Police Commissioner Dermot Shea said he "couldn't be happier" with how the sweep turned out. "I would categorize this as one for the win column and another step toward getting back to normalcy in New York," Shea said.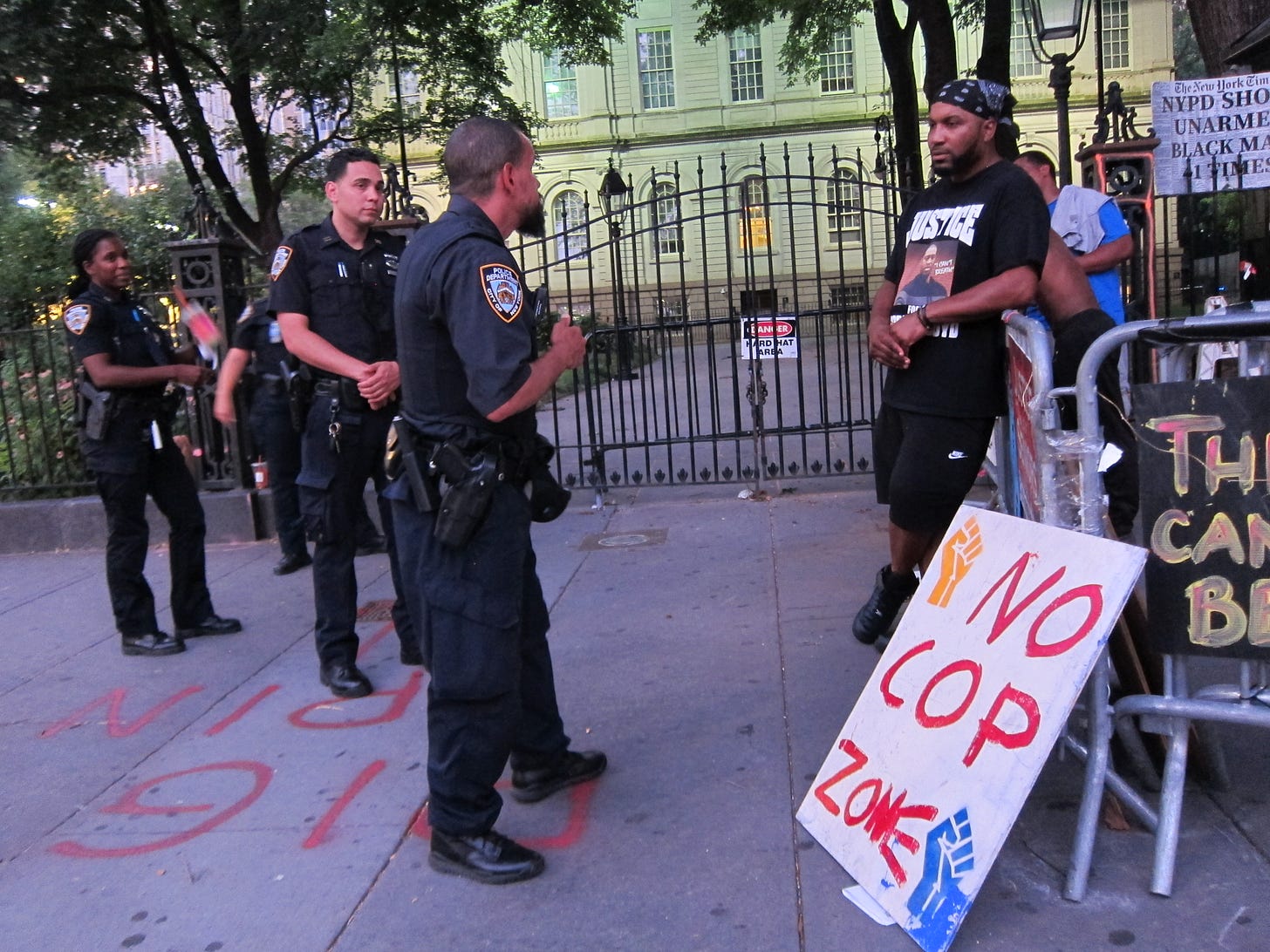 A protestor engaged in a heated discussion with police outside Abolition Park on Monday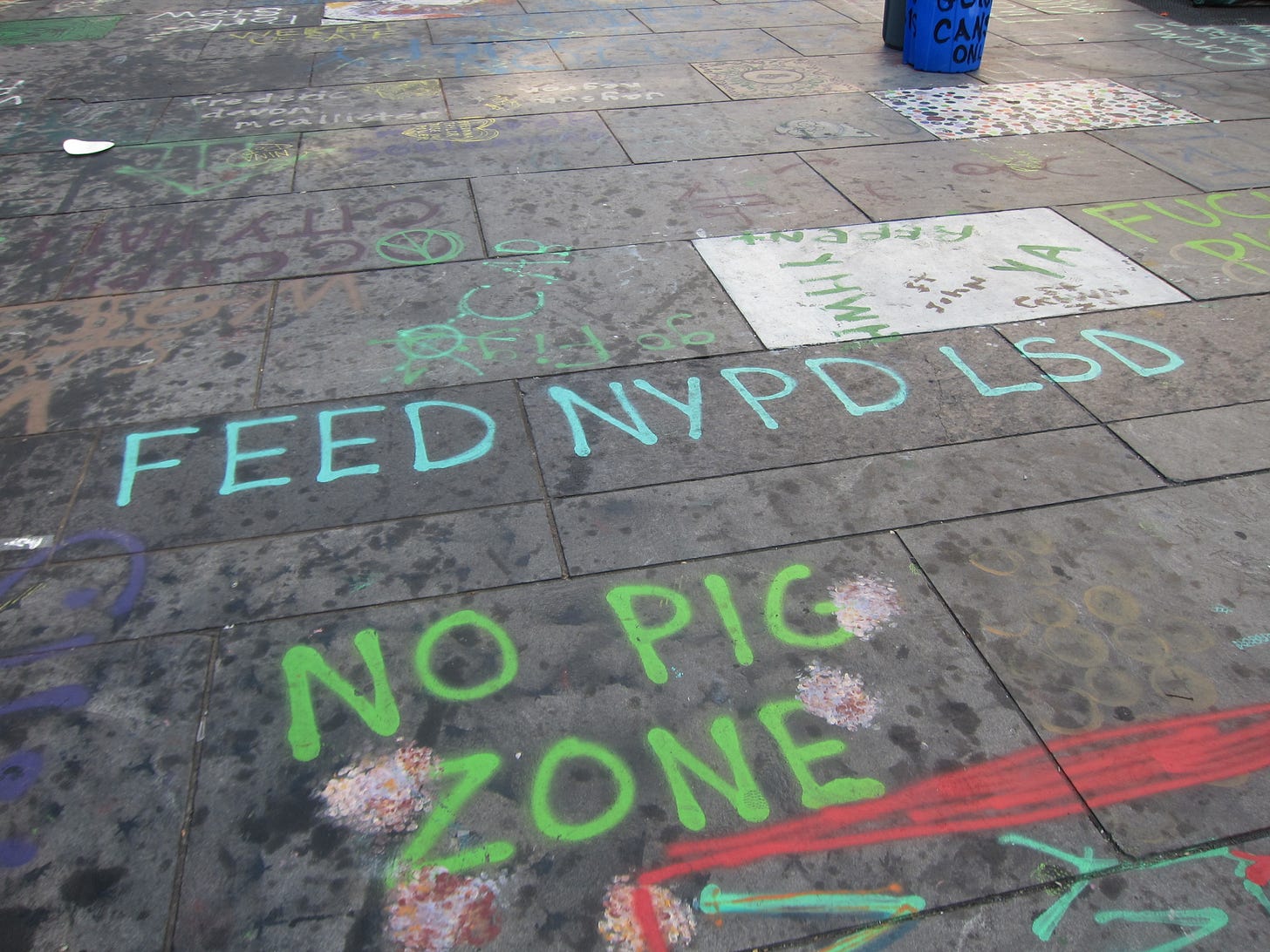 The abrupt end of Abolition Park struck just as protestors were planning to relaunch the camp, equipping it with sustainable infrastructure like more durable tents and portapotties, and a programing slate of demonstrations, block parties, and other events. I've been spending the past week hanging out at the zone, and even had a meeting two days ago with the head of event programming about organizing a socially-distanced PROTEST RAVE with several other Brooklyn rave organizers, with speakers and musical acts, in solidarity with the federal crackdown on Portland. Protestors at the park were excited by the prospect of a protest rave—the zone's numbers had been dwindling from a few thousand to about a hundred or so protestors, and they wanted to revitalize the space with new energy and fresh faces. "It's been so long since I've gotten to dance," said a queer trans activist named "N" at a booth called the People's Smoke Spot. "It would be so nice to do that again."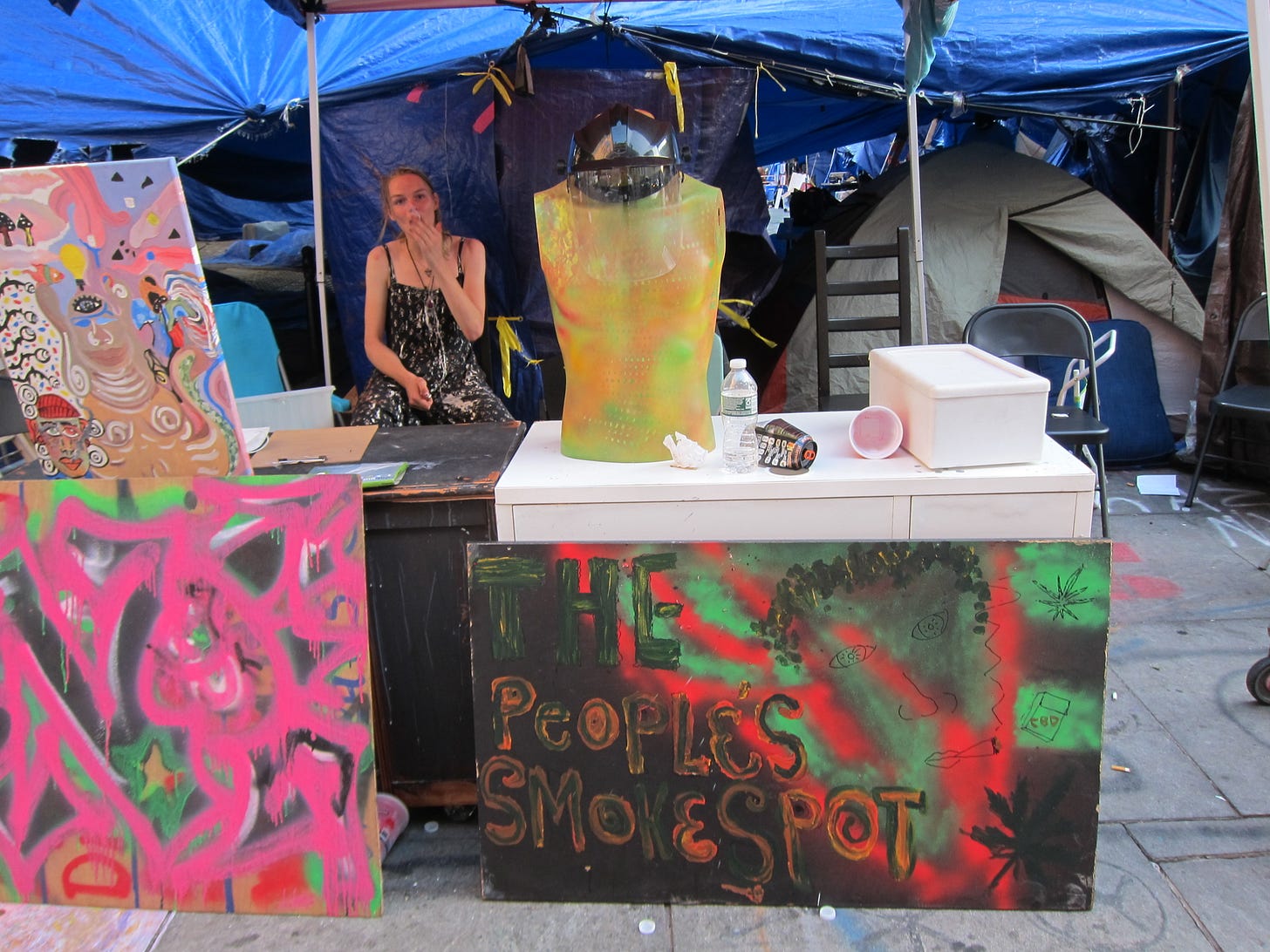 N cheerfully posed for a pic after I popped her a doobie
As we discussed which date we should throw our sonic demonstration on, I told them that chances the camp would be shut down without warning were slim— "the city usually sends in some warning or negotiations," I said, recalling how Seattle's Mayor had gradually removed the CHOP's barricades as a warning in the days before sending police in. How wrong I was to think that all autonomous zones would live and die along the same lines. Nobody saw this coming.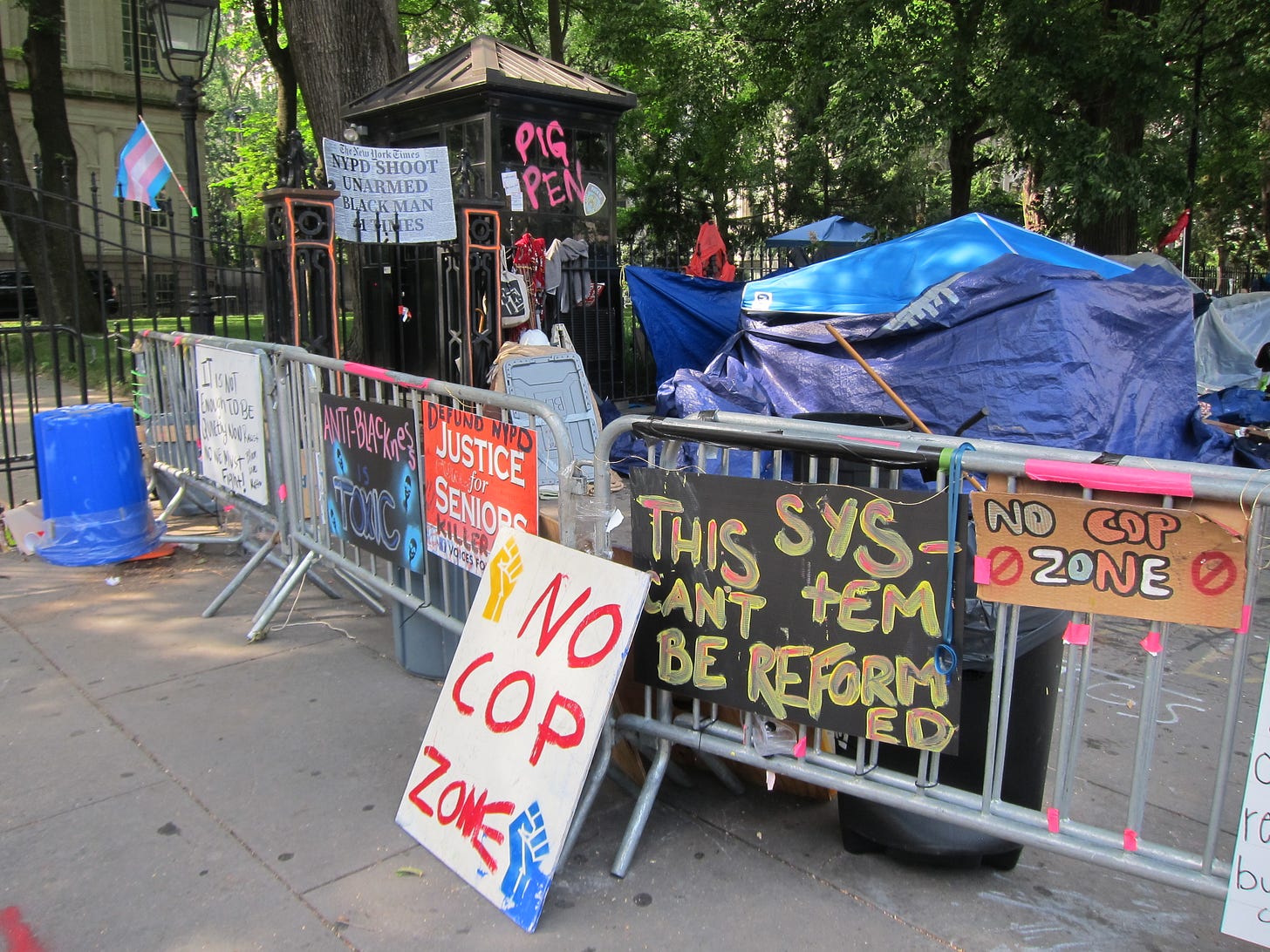 The barricades at the entrance of New York's autonomous zone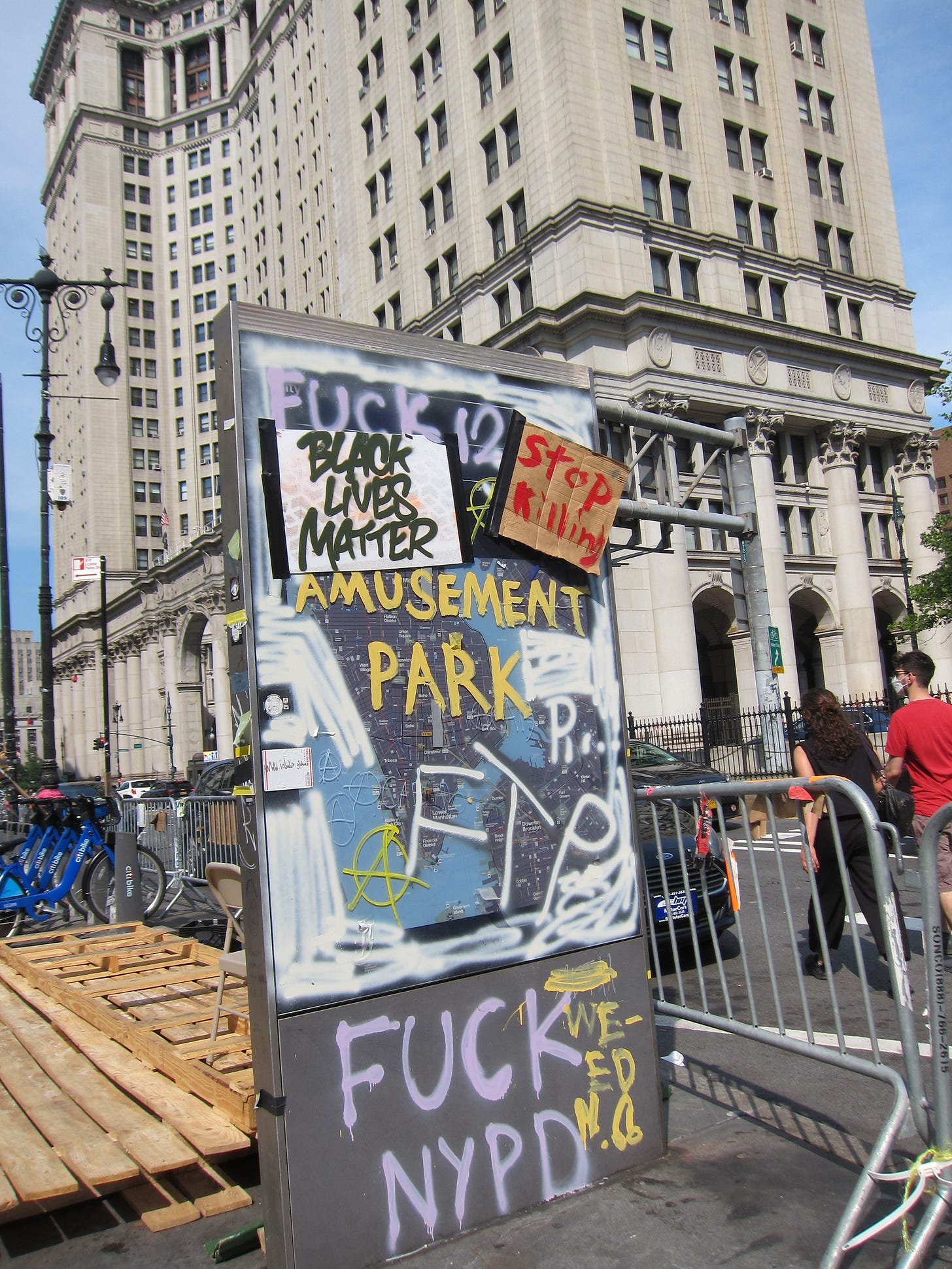 Subway boards covered in protest graffiti, with City Hall in the background
De Blasio and the authorities insistence that Abolition Park had become a homeless encampment instead of a protest zone disingenuously ignores the fact that houselessness and political protest against police brutality are not separate issues—and in fact, that these systemic problems are intricately linked by class inequality and racism.
When I first walked into Abolition Park last week, I met a houseless resident named Obama, who was the only person sitting at the barricades, acting as the de facto bouncer/gatekeeper. Grinning, Obama welcomed me into the autonomous zone, and told me he had come to the space looking for a safe place to sleep and just never left. During his time there, he'd participated in marches to protest the death of his brother, who died after a police chase ended in a motorcycle accident. "We need to fight to eradicate color—this is sovereign land, and this is for you too, sister."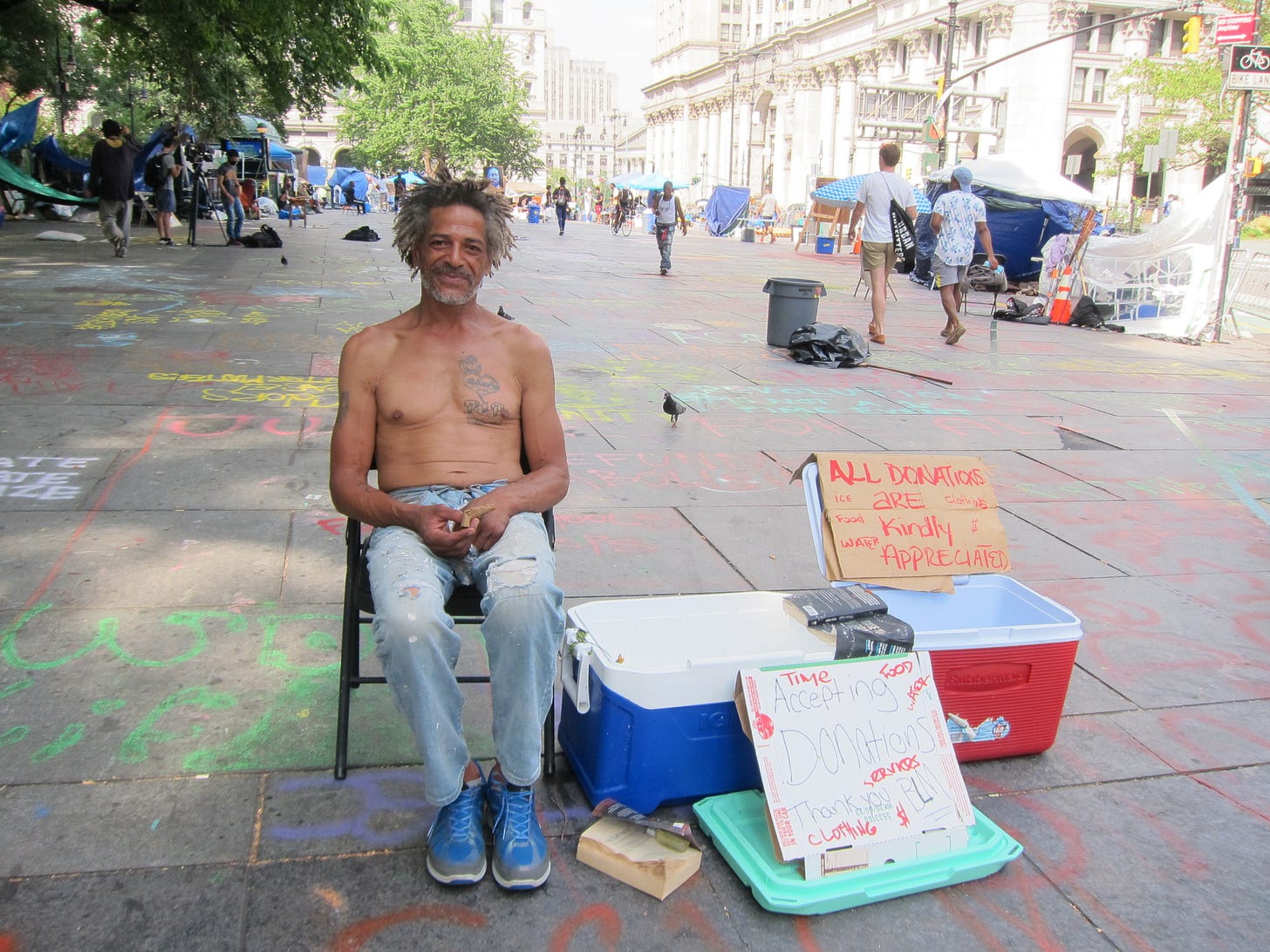 Obama told me that usually he would be on the streets slinging drugs, making $400 a day and using at night. But since hanging out at Abolition Park, "I've got a higher purpose and I'm trying to raise my vibrations." Pulling out a bag of weed to roll up a blunt, Obama cast a look at the cops milling around outside the zone's barricades. "They killed my brother, and that's why I'm here as a gatekeeper, waiting for them to come by, because I got something to say to them," he said. "When he looked back up from rolling his blunt, I was surprised to see his eyes gleaming. Tears rolled down his face as he continued, "That's why I march. I didn't realize I needed that closure until I came here."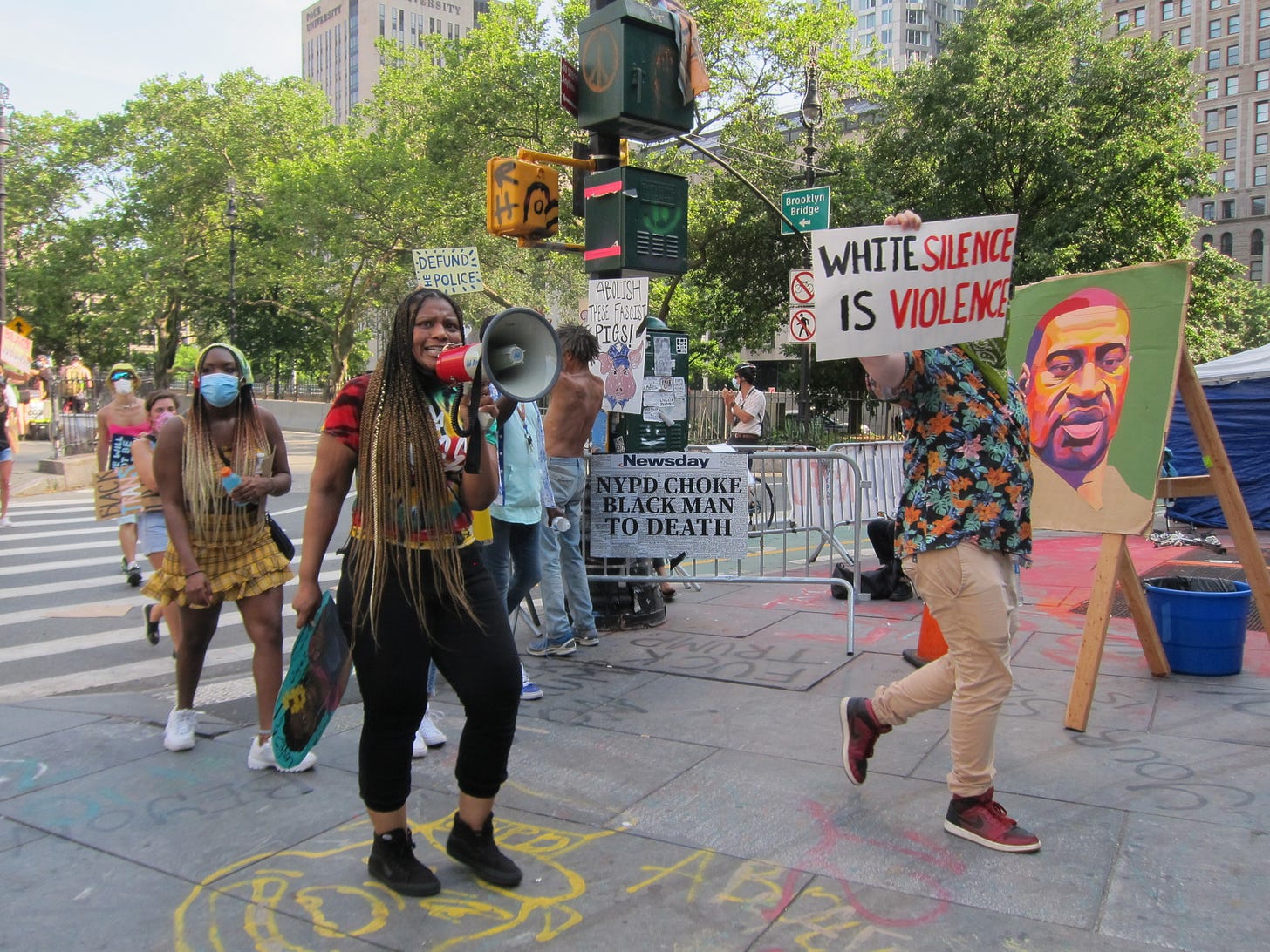 A protest march organized by NYC Youth Anti-Racist Alliance went through Abolition Park last weekend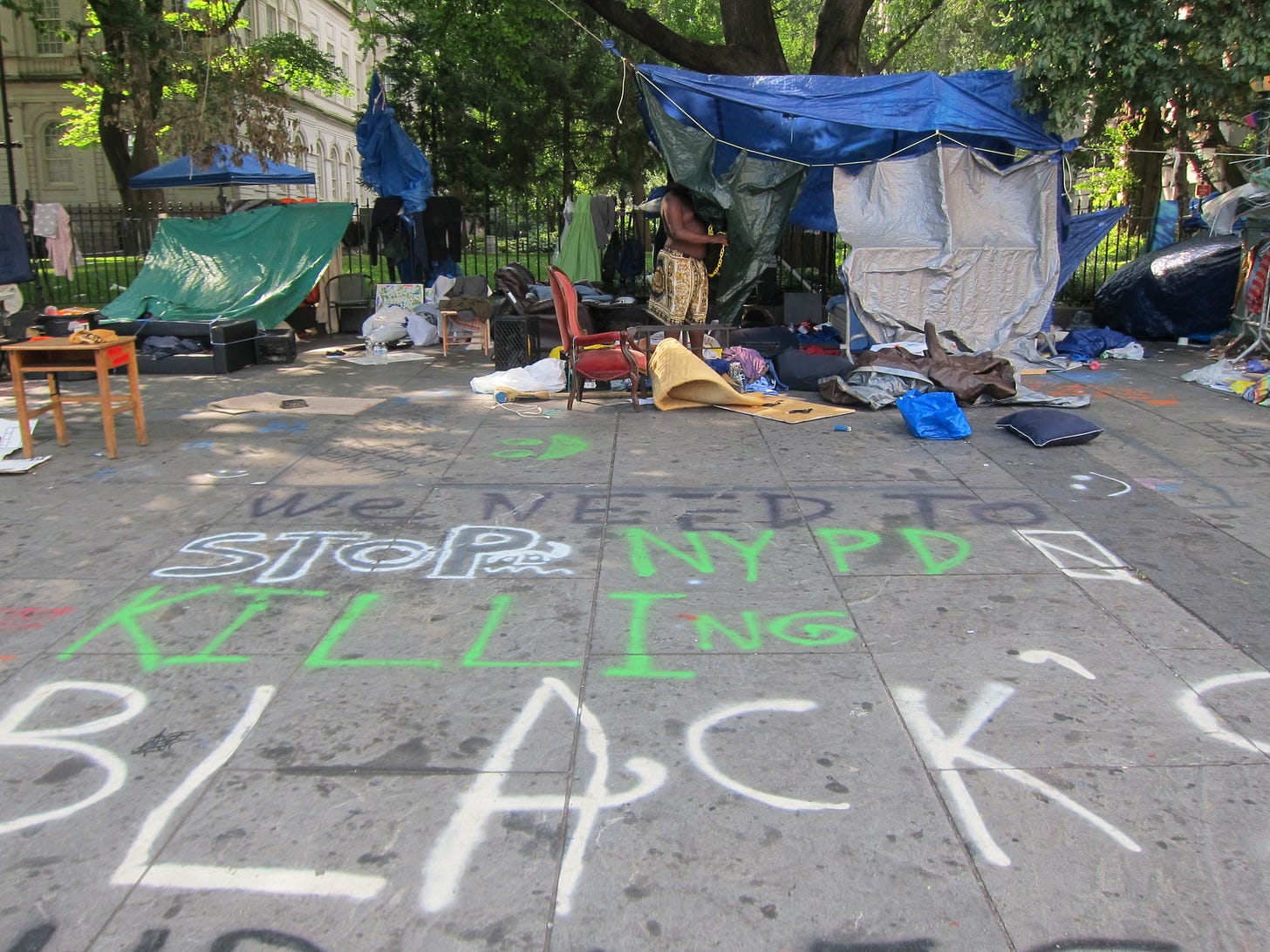 Yet, in retrospect, it was apparent that New York's autonomous zone had reached its messy stage. Unlike the CHOP, it did not appear like many people were armed with ammunitions, but once night fell, fights would often break out at the camp, and accusations of theft were rampant. "What outsiders don't understand is that these issues already exist in society," a protestor named C told me. "They come in and say we're attracting violence—but actually, it's just that the media is paying attention." Another activist named T added, "We have to provide services for the homeless and mentally ill because this is a space for everyone, and they feel safer here than in a shelter."
On Monday night, I attended a nightly People's Meeting that aimed to address some of these problems. About ~50 people, mostly in their 20s and 30s, gathered in a circle in the middle of the zone, and the energy was buzzing with enthusiasm as a Black girl on roller skates whizzed around, waving palo santo in the air. One by one, protestors took turns to express their thoughts on the mic, as they discussed forming coalition groups to protect each other in case of arrest, as well as the need to stop infighting. "We fighting over cigarettes, phones, petty shit," said one protestor, who encouraged adopting an attitude of abundance instead of scarcity. "All of that can be replaced. People can't."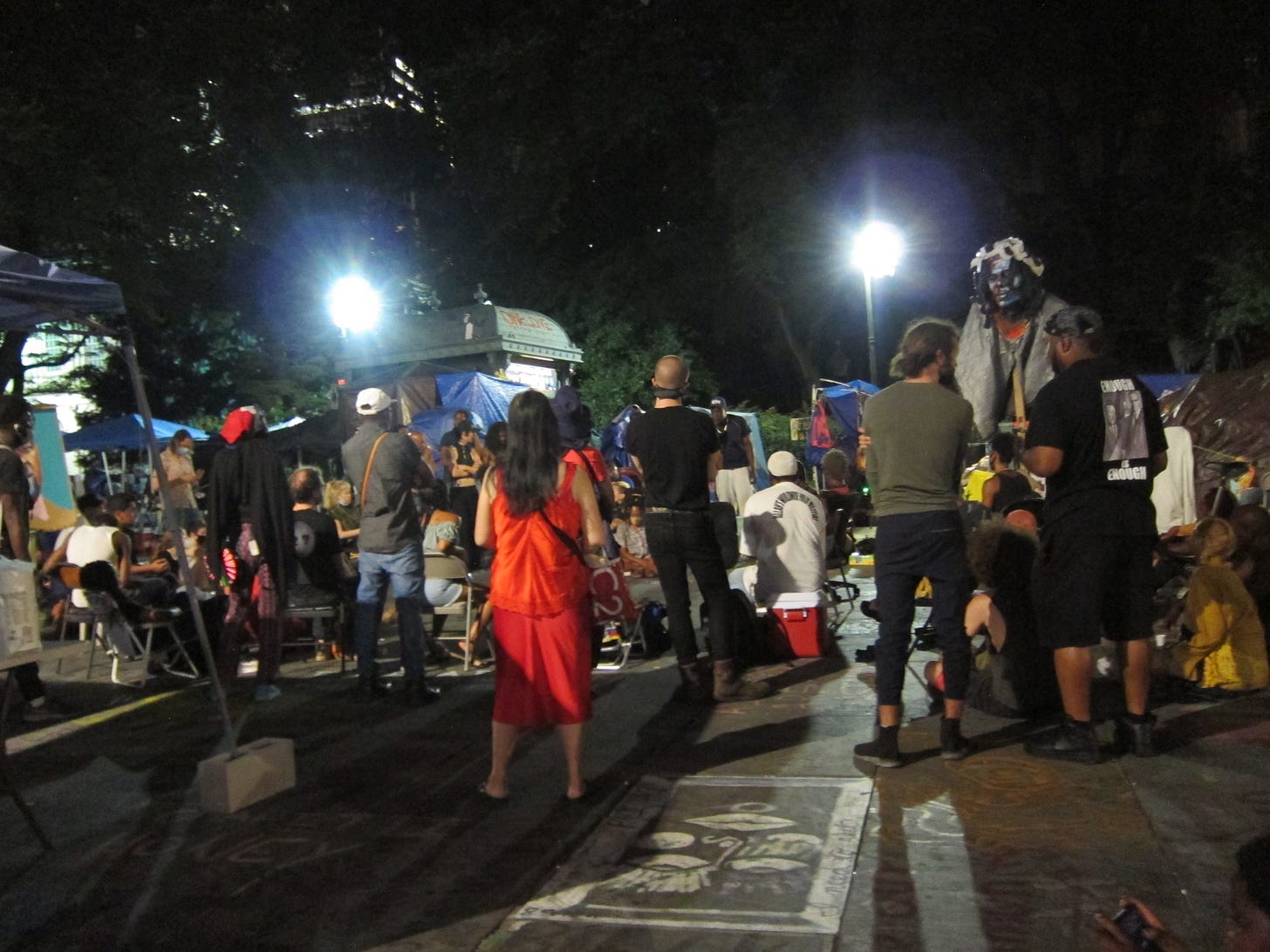 A man with a "Justice for Floyd" shirt and an air of authority took a stand. I'd seen him earlier that day in a heated debate about police tactics with the cops at the barricade. "They are waiting for someone to get hurt, and then they will come shut us down," he warned, saying that the authorities want to show New Yorkers that protestors were dirty, stinky, stealing, and fighting amongst themselves—that this was a war of optics. "Don't channel this negative energy amongst each other. We are here for a cause—not because. The war is out there, not here."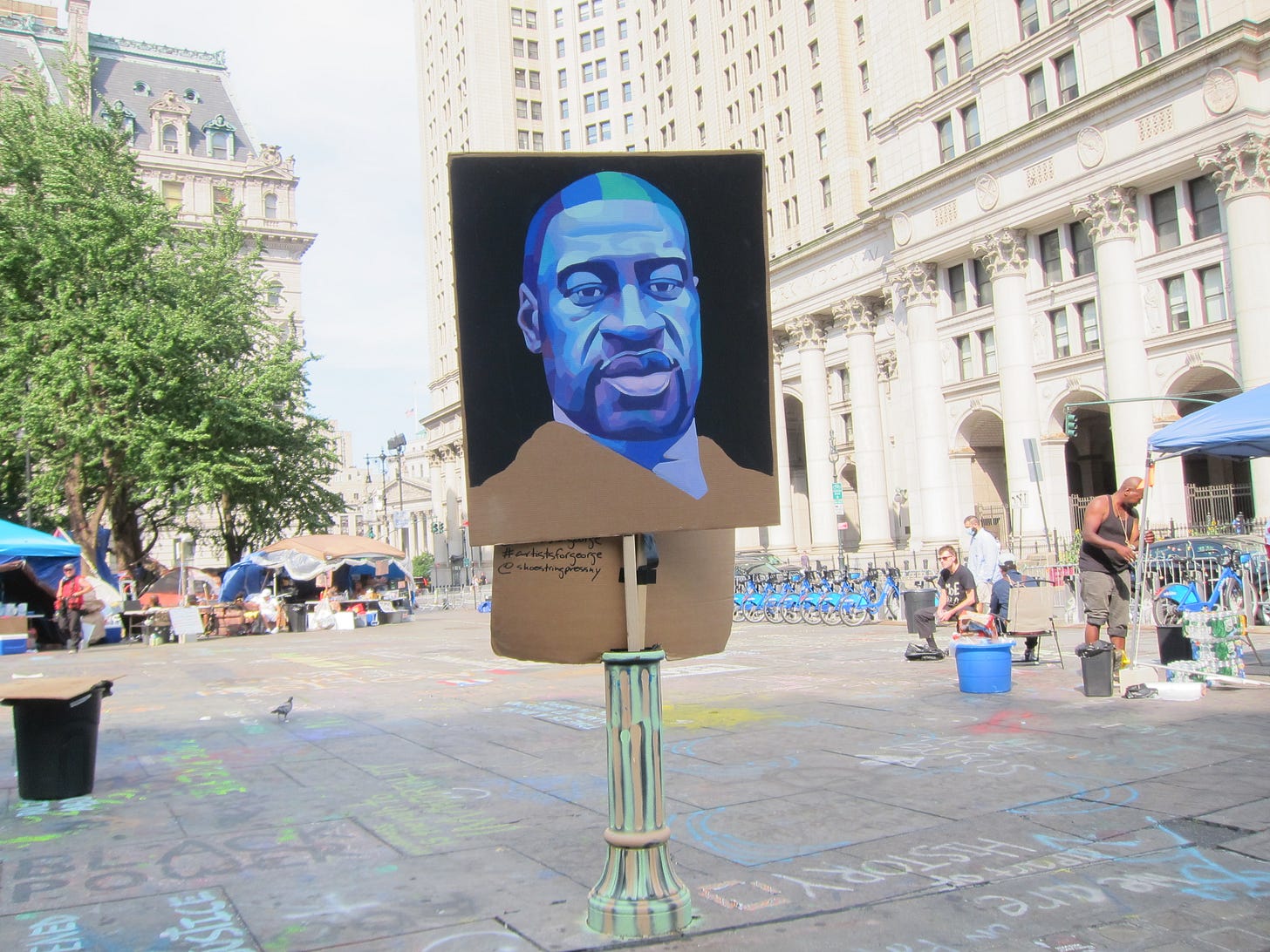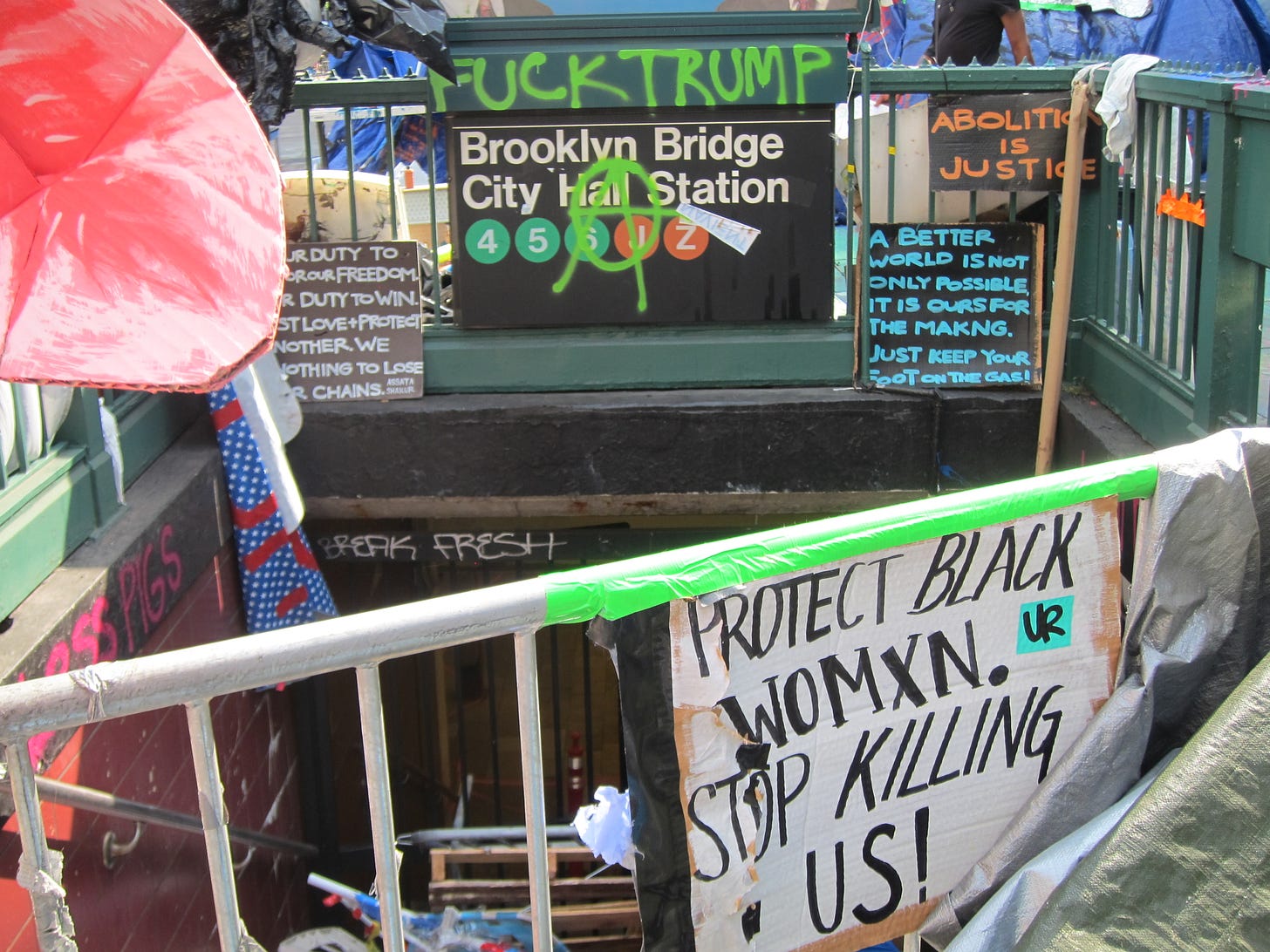 More protest art and signs adorning the zone's central square and abandoned subway station
Two days later, the man's voice turned out to be prophetic, as New York's Mayor and the authorities try to portray Abolition Park as a stinking homeless encampment rather than the radically inclusive protest space that it actually was. So what happens next? I'm about to meet some protestors at the police precinct on the Lower East Side, where they are trying to help their arrested comrades get out of jail. (According to press reports, one person was arrested for allegedly throwing a brick at a police officer, and six others were given summonses for refusing to disperse. But let's see what's actually going down.) Protestors are also planning meetings on what actions will follow, and I'm determined to continue with our plans for a sonic demonstration this weekend in solidarity with Portland. As usual—stay tuned, signing off for now.
Rave New World is an independent newsletter fueled by my readers' paid subscriptions. To help me continue this work and take this project to autonomous cities, please consider subscribing!